Sept. 7, 2015
FOR IMMEDIATE RELEASE
Contact: In Atlanta, Soyia Ellison, 1-404-420-5124 or soyia.ellison@cartercenter.org
ATLANTA — The Carter Center's high-level political delegation to the Sept. 6 general elections in Guatemala found these elections to be distinct, not only in regard to Guatemala's electoral history, but also in the context of the region.
The acute political crisis in the months before the elections generated domestic and international concern about the possibility of success for the electoral process. However, the president's resignation and the succession of Alejandro Maldonado, within the framework of respect for citizens' rights and in a peaceful climate of participation, changed the pre-election stage.
The delegation would like to highlight two aspects of the election: One, there were few and isolated incidents of violence on election day. Two, citizens showed great commitment to go out and vote, achieving the highest turnout since Guatemala's transition to democracy in 1985. This demonstrates the importance that the Guatemalan people attributed to this election.
We believe that the result was made possible by the conviction of Guatemalan society and the serious and responsible work of the Supreme Electoral Tribunal, which organized the elections properly, both technically and in the training of the poll workers that carried out the election.
To date, the behavior of the parties, as they await the final results, has been responsible and calm, contributing to the peace on election day and during the days leading up to it.
After several meetings with observers, analysts, and political stakeholders, we must, however, stress the perception that the country is in a process of transition. These elections serve as the starting point for necessary institutional transformation to enable the country to overcome the structural problems of the party system, enhance the credibility of the branches of government, and ensure a real strengthening of institutions that may be able to respond to the legitimate demands of society.
We congratulate the people of Guatemala for this success. We encourage citizens to replicate the historic voter turnout in the runoff election on Oct. 25, for which The Carter Center will be present.
The Carter Center's delegation, there at the invitation of the Guatemalan Supreme Electoral Tribunal, was led by a member of the Friends of the Inter-American Democratic Charter, former Bolivian President Carlos Mesa; and David Ives, executive director of the Albert Schweitzer Institute at Quinnipiac University; and accompanied by the Carter Center's director of the Americas Program, Jennie Lincoln.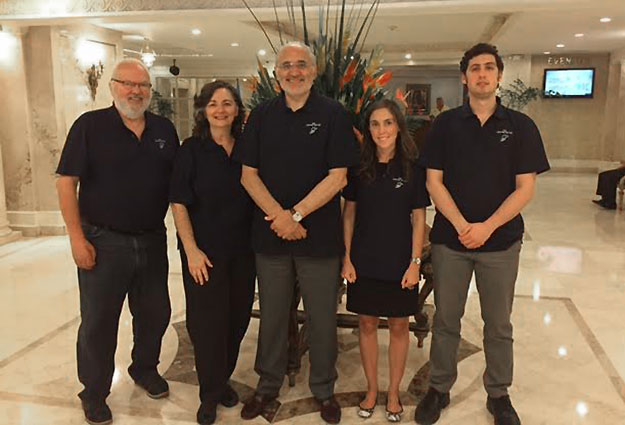 The Carter Center delegation: (left to right) David Ives, Jennie Lincoln, Carlos Mesa, Ana Caridad, and Daniel Lemaitre.
###
"Waging Peace. Fighting Disease. Building Hope."
A not-for-profit, nongovernmental organization, The Carter Center has helped to improve life for people in over 80 countries by resolving conflicts; advancing democracy, human rights, and economic opportunity; preventing diseases; and improving mental health care.  The Carter Center was founded in 1982 by former U.S. President Jimmy Carter and former First Lady Rosalynn Carter, in partnership with Emory University, to advance peace and health worldwide.
Translations
Comunicado de prensa de la delegación política de alto nivel del Centro Carter en las elecciones generales del 6 de septiembre en Guatemala