Jan. 16, 2013

Contact: Emily Staub, The Carter Center,
Emily.Staub@emory.edu, +1-404-420-5126
ATLANTA...Former U.S. President Jimmy Carter announced today that the international Guinea worm eradication campaign spearheaded by The Carter Center has reached its final stages with only 542 cases reported worldwide in 2012. These provisional case numbers, identified by ministries of health in the remaining four endemic nations and compiled by The Carter Center, show that cases of the parasitic disease were reduced by nearly half in 2012.
"Having only 542 Guinea worm cases worldwide in 2012 is a testament to the hard work of the endemic and formerly endemic communities, supported by The Carter Center and our partners," said President Carter, who has been personally committed to the campaign for nearly three decades.  "The collateral impact of this campaign is immense; it empowers people in some of the world's most neglected communities to protect themselves from a terrible disease and to believe in the possibility of a brighter future."
There were 3.5 million cases of Guinea worm in 21 countries in Africa and Asia when The Carter Center began leading the international campaign in 1986. Today, cases have been reduced by more than 99.999 percent. In 2012, South Sudan reported the majority of cases (521) from a handful of isolated locations. The remaining cases in 2012 were reported by Chad (10), Mali (7), and Ethiopia (4).  According to projections from the Center for Global Development, the campaign has averted more than 80 million cases worldwide since 1986. President Carter announced the provisional numbers during a virtual press conference earlier this morning.
"In any eradication effort, the final few cases are always the hardest and most expensive to wipe out, but we cannot stop until the job is done. If we leave even one case behind, this terrible disease can return to inflict immense suffering on some of the world's most neglected people and communities," said Dr. Donald R. Hopkins, Carter Center vice president of health programs, who serves as chair of the International Task Force for Disease Eradication and this month published the article "Disease Eradication" in the New England Journal of Medicine.
The Center's success in leading the battle against Guinea worm disease is in the vanguard of a new worldwide push to combat neglected tropical diseases (NTDs). For more than a quarter century, The Carter Center has remained on the forefront of NTD eradication and elimination.  To reaffirm its commitment, the Center was one of more than 60 signatories to the January 2012 London Declaration, a multiorganizational pledge to eliminate or control 10 diseases worldwide by 2020. Guinea worm eradication is poised to succeed in the next few years.
Guinea worm disease afflicts the world's poorest and most isolated communities. Also known as dracunculiasis, Guinea worm disease is contracted when people consume water contaminated with Guinea worm larvae. After a year, a meter-long worm slowly emerges from the body through a painful blister in the skin. The ancient disease is being wiped out through health education and behavior change, such as teaching people to filter all drinking water and keeping anyone with an emerging worm from entering water sources. There are no vaccines or medicines to prevent or treat the disease, but thanks to the tenacity of thousands of health workers involved in the international campaign, Guinea worm is poised to be the second human disease eradicated after smallpox.
"We are so close and I look forward to personally announcing that we have stopped transmission of Guinea worm disease worldwide," said President Carter. 
Many generous foundations, corporations, governments, and individuals have made the Carter Center's work to eradicate Guinea worm disease possible, including major support through 2015 from the Bill & Melinda Gates Foundation, United Kingdom's Department for International Development (DFID), Children's Investment Fund Foundation (CIFF), and His Highness General Sheikh Mohamed bin Zayed Al Nahyan, Crown Prince of Abu Dhabi, in the name of His Highness Sheikh Khalifa bin Zayed, President of the United Arab Emirates (UAE).  Key implementing partners include the ministries of health in endemic countries, World Health Organization (WHO), UNICEF, and the U.S. Centers for Disease Control and Prevention (CDC).
###
"Waging Peace. Fighting Disease. Building Hope."
A not-for-profit, nongovernmental organization, The Carter Center has helped to improve life for people in more than 70 countries by resolving conflicts; advancing democracy, human rights, and economic opportunity; preventing diseases; improving mental health care; and teaching farmers in developing nations to increase crop production. The Carter Center was founded in 1982 by former U.S. President Jimmy Carter and his wife, Rosalynn, in partnership with Emory University, to advance peace and health worldwide.
Visit our website  CarterCenter.org  | Follow us on Twitter  @CarterCenter | Like us on Facebook Facebook.com/CarterCenter | Watch us on YouTube YouTube.com/CarterCenter | Add us to your circle on Google+ http://Gplus.to/CarterCenter
Multimedia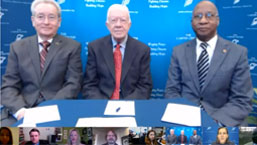 Hangout On Air: Guinea Worm Case Count Announcement
Former U.S. President Jimmy Carter and Carter Center Guinea worm experts Drs. Donald R. Hopkins and Ernesto Ruiz-Tiben announce the provisional Guinea worm case totals for 2012 and discuss significant progress in the international Guinea worm eradication campaign led by The Carter Center. Watch Now >>
Related Resources
View Additional Guinea Worm Graphics >
Editor's Notes
Background on the disease and additional details on the case count, including a breakdown by country and month, are available on theCenter's Guinea worm microsite.
Professionally shot B-roll and photographs are available by contacting Emily.Staub@emory.edu.
Watch President Carter and Carter Center Guinea worm experts Dr. Donald Hopkins and Dr. Ernesto Ruiz-Tiben discuss the remaining cases in a virtual media roundtable hosted on Google+ Hangout On Air.