Jan. 15, 2014
For Immediate Release
Carter Center Contact in Atlanta: Emily.Staub@emory.edu
ATLANTA...The Carter Center announced today that 148 Guinea worm cases were reported worldwide in 2013. These provisional numbers, reported by ministries of health in the remaining four endemic nations and compiled by the Center, show that cases of the debilitating disease were reduced by 73 percent in 2013 compared to 542 cases in 2012. When the Center began leading the first international campaign to eradicate a parasitic disease, there were an estimated 3.5 million Guinea worm cases occurring annually in Africa and Asia.
"As we near the finish line in this eradication campaign, The Carter Center and its partners remain committed to ending the devastating suffering caused by Guinea worm disease, recognizing that the final cases of any eradication campaign are the most challenging and most expensive to eliminate," said former U.S. President Jimmy Carter.
In 1991, when the number of endemic villages reached its peak, there were 23,735 villages in 21 countries in Africa and Asia reporting Guinea worm disease. In 2013, there were only 63 endemic villages in four countries — all in Africa.
South Sudan, the world's youngest nation, reported 113 cases or 76 percent of the worldwide case total in 2013. Most of those cases were in Eastern Equatoria state. The remaining indigenous cases in 2013 were reported in isolated areas of Chad (14), Mali (11), and Ethiopia (7). Under investigation are three cases reported in Sudan along the South Sudan-Sudan border.
Considered a neglected tropical disease, Guinea worm disease (dracunculiasis) is contracted when people consume water contaminated with Guinea worm larvae. After a year, a meter-long worm slowly emerges from the body through a painful blister in the skin. In the absence of a vaccine or medical treatment, the ancient disease is being wiped out mainly through community-based interventions to educate and change behavior, such as teaching people to filter all drinking water and preventing contamination by keeping anyone with an emerging worm from entering water sources.
The Carter Center together with its partners, ministries of health, and local communities, has reduced cases by more than 99.9 percent since 1986. The Center estimates that the eradication campaign has averted more than 80 million cases among the world's poorest and most neglected people. Guinea worm disease is positioned to be the second human disease, after smallpox, to be eradicated.
REMAINING GUINEA WORM COUNTRIES
"The final Guinea worm-endemic areas are not random," said Dr. Donald R. Hopkins, Carter Center vice president for health programs and head of the International Task Force for Disease Eradication. "These last countries continue to have Guinea worm cases because of geographic remoteness, insecurity, or inadequate political will."
The South Sudan Guinea Worm Eradication Program reported 113 cases January-November 2013 compared to 520 cases for the same period in 2012, a reduction of 78 percent. Until political and ethnic hostilities broke out on Dec. 15, 2013, the program had reported zero cases for that month. The current insecurity is not occurring in the country's most endemic area and coincides with the lowest transmission season for the disease there.
"South Sudan's Guinea Worm Eradication Program has overcome exceptional challenges while reducing cases by 99 percent since 2006. The program operated at its highest level in 2013, and we expect the team's hard work to bear fruit this year," said Dr. Hopkins. "Immediate and sustained peace is critical to restore the program's momentum and resume full operational surveillance and supervision to prevent any transmission in 2014."
The Carter Center has worked with the people of Sudan and South Sudan for nearly three decades to improve health and resolve conflict. The Center also observed national elections in 2010 and witnessed the birth of South Sudan during its referendum in 2011. In 2014, The Carter Center continues to fight neglected diseases (Guinea worm, river blindness, and trachoma) and encourage dialogue between the two countries to create a lasting peace.
In Ethiopia, the federal ministry, including the minister of health, redoubled its efforts to stop transmission by the end of 2014 in the only remaining Guinea worm-endemic area, the Gambella region.
In Chad, the program continued to investigate the unusual epidemiology of its Guinea worm cases in 2013, and the government is preparing additional control measures to address remaining transmission.
In Mali, insecurity that began in April 2012 continues to delay interruption of Guinea worm disease transmission because the national program has not been able to operate fully and consistently in all of its Guinea worm-endemic regions. In 2013, the program was partially operational in three regions and not at all operational in one region due to insecurity.
The Carter Center leads the international Guinea worm eradication campaign and works in close partnership with national programs, the World Health Organization (WHO), U.S. Centers for Disease Control and Prevention (CDC), UNICEF, and many other partners. The Carter Center provides technical and financial assistance to national Guinea worm eradication programs to interrupt transmission of the disease. CDC provides technical assistance and verifies whether worms from these final patients are truly Guinea worms or not. The presence of Guinea worm disease in a geographic area indicates abject poverty, including the absence of safe drinking water; UNICEF mainly assists countries by providing safe sources of drinking water to priority areas identified by the national Guinea worm eradication programs. WHO also helps countries prepare for certification and assists them to develop or strengthen surveillance in Guinea worm-free areas. The WHO is the only organization that can officially certify the eradication of a disease.
FIVE ADDITIONAL COUNTRIES DECLARED GUINEA WORM-FREE
After transmission is interrupted in individual countries, the WHO's International Commission for the Certification of Dracunculiasis Eradication (ICCDE) sends certification teams to assess whether transmission of the disease continues or whether it has been stopped for three or more years after the last indigenous case has been reported.
In December 2013, the ICCDE recommended that five additional countries be certified by the WHO as free of Guinea worm disease, bringing the total to 197 countries and territories. Of the newly recommended counties, Cote d'Ivoire, Niger, and Nigeria were endemic when the Guinea worm eradication campaign began and have worked since then with The Carter Center and others to stop transmission of Guinea worm disease in their nations.  When the campaign began, Nigeria had more than 650,000 of the estimated 3.5 million Guinea worm cases worldwide, more than any other country. The other two nations recommended for certification in 2013, South Africa and Somalia, did not have endemic transmission of Guinea worm disease during the current campaign but had not been certified previously as Guinea worm-free.
For a disease to be eradicated, every country must be certified, even if transmission has never taken place there.
PARTNERS
Many generous foundations, corporations, governments, and individuals have made the Carter Center's work to eradicate Guinea worm disease possible, including major support since 2000 from the Bill & Melinda Gates Foundation, as well as major recent support from the United Kingdom's Department for International Development (DFID); Children's Investment Fund Foundation (CIFF) - United Kingdom; and His Highness General Sheikh Mohamed bin Zayed Al Nahyan, Crown Prince of Abu Dhabi, in the name of His Highness Sheikh Khalifa bin Zayed, President of the United Arab Emirates (UAE). The DuPont Corporation and Precision Fabrics Group donated nylon filter cloth early in the campaign; Vestergaard Frandsen in recent years donated pipe filters and filter material. ABATE® larvicide (temephos) was donated by American Cyanamid early on, and now by BASF. Key implementing partners include the ministries of health in endemic countries, The Carter Center, WHO, CDC, and UNICEF.
###
"Waging Peace. Fighting Disease. Building Hope."
A not-for-profit, nongovernmental organization, The Carter Center has helped to improve life for people in more than 70 countries by resolving conflicts; advancing democracy, human rights, and economic opportunity; preventing diseases; and improving mental health care. The Carter Center was founded in 1982 by former U.S. President Jimmy Carter and former First Lady Rosalynn Carter, in partnership with Emory University, to advance peace and health worldwide.

Visit our website CarterCenter.org | Follow us on Twitter @CarterCenter | Like us on Facebook Facebook.com/CarterCenter | Watch us on YouTube YouTube.com/CarterCenter | Add us to your circle on Google+ CarterCenter
Related Resources
Multimedia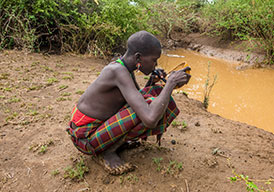 Piercing a Guinea Worm Stronghold in South Sudan
View Slideshow >