PRESS RELEASE
Santo Domingo… Efforts to eliminate two mosquito-borne diseases – malaria and lymphatic filariasis – in Haiti and the Dominican Republic are ongoing, with the first of four binational meetings on the issue to take place in 2012, held in Santo Domingo on the 29th and 30th of March of this year, with participants from the technical teams of the National Center for Tropical Disease Control, the Dominican Republic's Ministry of Health and the National Malaria Control Program of the Haitian Ministry of Health. Also participating in the strategic meeting are experts from The Carter Center, The Panamerican Health Organization (OPS) and the U.S. Centers for Disease Control and Prevention (CDC).
"It's exciting that cooperative elimination efforts in Haiti and the Dominican Republic, which were suspended following the earthquake, are now being resumed," said former U.S. President Jimmy Carter, whose Atlanta-based Carter Center has provided technical support for the 10-year plan to eliminate malaria and lymphatic filariasis on the island of Hispaniola. "The international community should applaud and support the countries' desire to work together to achieve this public health milestone." President Carter and a high-level delegation traveled to the border area and capitols of both nations in October 2009 to help promote the launch of the binational plan and build on earlier technical and financial support provided by The Carter Center.
"The earthquake that struck Haiti shocked the international community, especially the Haitians, who lost everything. We are taking this opportunity, during the reconstruction of Haiti, to be more emphatic regarding decisions, actions and funding to create a future free of two crippling but preventable neglected diseases, that keep us shackled in cycles of poverty," said Marie Denise Milord, binational coordinator. "That's what the Dominican and Haitian experts are doing here today-protecting our future."
The initiative to eliminate these diseases on Hispaniola is derived from the agreements between the health ministries of both countries signed in 2001. In 2004 and 2005, the binational technical teams for malaria and lymphatic filariasis held meetings. In 2006, The Carter Center's International Task Force for Disease Eradication (ITFDE), a group comprised of 12 international experts in infectious diseases, said it was "technically possible, medically desirable and would be economically beneficial" to eliminate these two parasitic diseases from the island. This recommendation was implemented in 2008-2009 through a binational project supported by The Carter Center, to accelerate the elimination process and obtain international support to carry out the work.
"Disease knows no borders, especially in today's global community. We all have a stake in supporting Haiti and the Dominican Republic's goal of completely eliminating these diseases, not merely controlling them. More importantly it is the ethical, humanitarian thing to do," said ITFDE Chair and Carter Center Vice President for Health Programs Dr. Donald R. Hopkins.
Following the earthquake, experts see an opportunity to promote the elimination of these two diseases, with a high impact on reconstruction activities, and urge the international community to support the elimination strategy as part of the recovery strategy in Haiti. As of February 2012, for the first time in its history, Haiti has extended mass drug administration to all lymphatic filariasis-affected areas.
Hispaniola is the only island in the Caribbean where malaria is endemic, and it also contains more than 90% of all lymphatic filariasis cases in the Americas. Both diseases are much more frequent in Haiti than in the Dominican Republic. Public health officials remain concerned that the loss of lives and damage to infrastructure and government resources, brought on by the earthquake that struck Haiti, may have increased the prevalence of malaria and lymphatic filariasis, as well as other health problems.
Malaria and lymphatic filariasis also affect the economy, since both diseases are caused by poverty, and create even more poverty.
####
Media Contacts:
Strategic Communication and Press Release Office,
Ministry of Health, Dominican Republic
Luis Garcia, Director
Email: luisrgarcia15@hotmail.com
Cell phone: 809-910-0415
Alberto Quezada, Vice Director
Email: quezada.alberto218@gmail.com
Cell phone: 928-847-3190
Press Release Office, Ministry of Public Health and Population, Haiti
Gabriel Thimothe
Email: gabythimo1@yahoo.fr
Office of Public Information, The Carter Center
Emily Staub
Email: Emily.Staub@emory.edu
Phone: 404-420-5126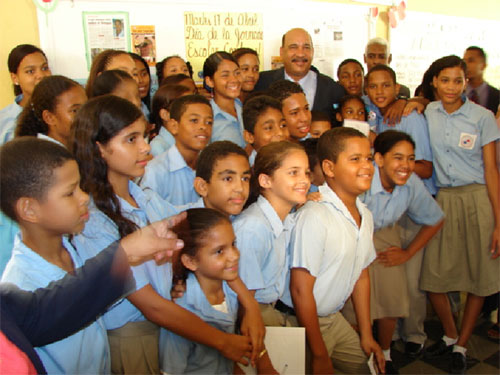 "Eliminating mosquito breeding sites from each of our homes"
Professionally shot photographs and footage available upon request. Learn more about the binational Hispaniola initiative: http://cartercenter.org/health/hispaniola-initiative/index.html
---

NOTA DE PRENSA
4 de abril de 2012
República Dominicana y Haití continúan planes para eliminar la malaria y la filariasis linfática en la Isla para el 2020
Santo Domingo… Los esfuerzos para eliminar dos enfermedades transmitidas por mosquitos – malaria y filariasis linfática – en Haití y la República Dominicana siguen en marcha, al realizarse la primera de cuatro reuniones binacionales sobre este tema que sellar arán a cabo en el año 2012, la cual tuvo lugar en Santo Domingo los días 29 y 30 de marzo del año que discurre, con la participación de los equipos técnicos del Centro Nacional de Control de Enfermedades Tropicales del Ministerio de Salud de la República Dominicana y el Programa Nacional de Control de Malaria del Ministerio de Salud de Haití. También participaron en esta reunión estratégica expertos del Centro Carter, la Organización Panamericana de la Salud (OPS) y de los Centros para la Prevención y Control de Enfermedades de los Estados Unidos (CDC).
"Es emocionante saber que se están reanudando los esfuerzos cooperativos para la eliminación de estas enfermedades en Haití y la República Dominicana, que fueron suspendidos después del terremoto", señaló el ex Presidente de los Estados Unidos Jimmy Carter, cuyo Centro Carter, ubicado en Atlanta, ha brindado apoyo técnico para el plan de 10 años para eliminar la malaria y la filariasis linfática en la isla de La Española. "La comunidad internacional debe aplaudir y apoyar el deseo de estos países de trabajar juntos para lograr este hito en la salud pública". El Presidente Carter y una delegación de alto nivel viajó al área fronteriza y a los capitolios de ambas naciones en octubre de 2009 para ayudar a promover el lanzamiento del plan binacional y continuar con el apoyo técnico y financiero anterior proporcionados por el Centro Carter.
"El terremoto que afectó Haití conmocionó a la comunidad internacional, sobre todo a los haitianos que lo perdieron todo. Estamos aprovechando esta oportunidad, durante la fase de reconstrucción de Haití, para ser más enfáticos con las decisiones, acciones y financiamiento para crear un futuro libre de dos enfermedades olvidadas, agobiantes, pero prevenibles, que nos mantienen encadenados en los ciclos de pobreza", dijo Marie Denise Milord, coordinadora binacional. "Es lo que los expertos dominicanos y haitianos están haciendo aquí hoy: la protegiendo de nuestro futuro".
La iniciativa de eliminación de estas enfermedades en La Española se deriva de acuerdos binacionales entre los ministerios de salud de ambos países consensuados en el año 2001. Posteriormente, en los años 2004 y 2005 se realizaron reuniones técnicas binacionales de los equipos de malaria y filariasis linfática. En el año 2006, el Grupo de Trabajo Internacional para la Erradicación de Enfermedades de el Centro Carter (ITFDE), un grupo de 12 expertos internacionales en enfermedades infecciosas, señaló que es "técnicamente posible, médicamente deseable y sería económicamente beneficioso" eliminar estas dos enfermedades parasitarias de la Isla. Esta recomendación se puso en marcha en el bienio 2008-2009 a través de un proyecto binacional apoyado por el Centro Carter para acelerar la eliminación y obtener apoyo internacional para desarrollar el trabajo.
"Las enfermedades no conocen fronteras, especialmente en la comunidad global de hoy. Todos tenemos el compromiso de contribuir con el objetivo de Haití y la República Dominicana de eliminar completamente estas enfermedades, no simplemente controlarlas. Lo más importante son los aspectos éticos y humanitarios", señaló el Dr. Donald R. Hopkins, presidente del Grupo de Trabajo Internacional para la Erradicación de Enfermedades (ITFDE) y vicepresidente de los programas de salud del Centro Carter.
Después del terremoto, los expertos ven la oportunidad de impulsar la eliminación de estas dos enfermedades, con un alto impacto en las acciones de reconstrucción, e instan a la comunidad internacional a apoyar la estrategia de eliminación como parte de la estrategia general de recuperación de Haití. En febrero de 2012, por primera vez en su historia Haití inició la administración masiva de medicamentos para las áreas afectadas con filariasis linfática.
La Española es la única isla en el Caribe donde la malaria es endémica y también abarca más del 90% de todos los casos de filariasis linfática de Las Américas. Ambas enfermedades son mucho más frecuentes en Haití que en la República Dominicana. Funcionarios de salud pública siguen preocupados porque la pérdida de vidas y los daños a la infraestructura y a los recursos del gobierno provocados por el terremoto que afectó Haití pueden haber empeorado la situación de malaria y filariasis linfática, así como otros problemas de salud.
La malaria y la filariasis linfática afectan también la economía, ya que ambas enfermedades son causadas por la pobreza y crean a su vez más pobreza.
####
Contactos con los medios de comunicación:
Oficina de comunicados de prensa y de comunicación estratégica,
Ministerio de Salud, República Dominicana
Luis García, Director
Correo electrónico: luisrgarcia15@hotmail.com
Teléfono celular: 809-910-0415
Alberto Quezada, Vice Director
Correo electrónico: quezada.alberto218@gmail.com
Teléfono celular: 928-847-3190
Oficina de comunicados de prensa, Ministerio de Salud Pública y Población, Haití
Gabriel Thimothe,
Correo electrónico: gabythimo1@yahoo.fr
Oficina de Información Pública, El Centro Carter
Emily Staub
Correo electrónico: Emily.Staub@emory.edu
Teléfono: 404-420-5126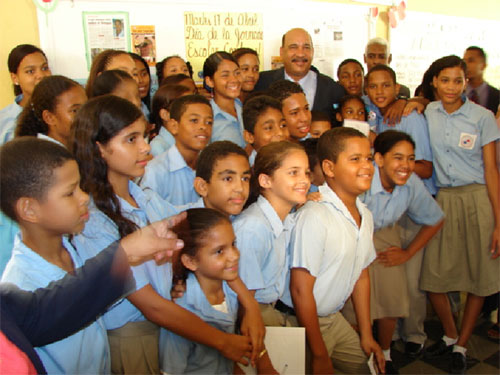 "Eliminemos los criaderos de mosquitos de cada uno de nuestros hogares"
Las fotografías profesionales y las secuencias de videos están disponibles a solicitud. Para obtener más información sobre la iniciativa binacional de La Española, visite: http://www.cartercenter.org/health/hispaniola-initiative/index.html
---

COMMUNIQUÉ DE PRESSE
4 avril 2012
La République dominicaine et Haïti poursuivent leurs projets d'éliminer de l'île la malaria et la filariose lymphatique d'ici 2020
Saint-Domingue… Les efforts se poursuivent en vue d'éliminer deux maladies transmises par les moustiques – la malaria et la filariose lymphatique – en Haïti et dans la République dominicaine, avec quatre réunions binationales prévues à ce sujet en 2012 dont la première s'est tenue à Saint-Domingue le 29 et 30 mars de cette année. Y-ont participé des équipes techniques du Centre national de lutte contre les maladies tropicales, le ministère de la Santé de la République dominicaine et le Programme national de lutte contre la malaria du ministère haïtien de la Santé. Des experts du Centre Carter, de l'Organisation panaméricaine de la santé (OPS) et des Centres pour le contrôle et la prévention des maladies y ont participé.
« C'est fantastique de voir que les efforts collaboratifs d'élimination, suspendus en Haïti et dans la République dominicaine suite au tremblement de terre, reprennent actuellement » a déclaré Jimmy Carter, l'ancien président des États-Unis, dont le Centre Carter basé à Atlanta a fourni un appui technique au plan sur 10 ans d'éradication de la malaria et de la filariose lymphatique de l'île d'Hispaniola. « La communauté internationale devrait applaudir et appuyer le désir de collaboration de ces pays en vue d'atteindre cette étape historique dans le domaine de la santé publique. » Le président Carter et une délégation de haut niveau se sont rendus dans la zone frontalière et les capitales des deux pays en octobre 2009 pour promouvoir le lancement du plan binational et poursuivre leur appui technique et financier antérieur fourni par le Centre Carter.
« Le séisme qui a frappé Haïti, et surtout les haïtiens qui ont tout perdu, ont choqué la communauté internationale. Nous profitons de l'occasion de la reconstruction d'Haïti pour renforcer les décisions, actions et financements en vue de créer un avenir exempt de deux maladies accablantes et négligées et pourtant contre lesquelles il est possible de se prémunir, des maladies qui nous enchaînent dans des cycles de pauvreté », explique Marie Denise Milord, coordinatrice binationale. « C'est ce que font ici les experts dominicains et haïtiens aujourd'hui-ils protègent notre avenir. »
L'initiative en vue d'éradiquer ces maladies d'Hispaniola découle d'accords binationaux entre les ministères de la Santé des deux pays approuvés en 2001. Par la suite, en 2004 et en 2005, des réunions techniques binationales se sont tenues avec la participation d'équipes consacrées à la malaria et à la filariose lymphatique. En 2006, le groupe de travail international pour l'éradication des maladies du Centre Carter un groupe de 12 experts internationaux en maladies infectieuses, a déclaré qu'il était « techniquement possible, médicalement recommandé et bénéfique du point de vue économique » d'éliminer ces deux maladies parasitaires de l'île. Cette recommandation s'est vue mise en œuvre en 2008-2009 grâce à un projet binational appuyé par le Centre Carter et a obtenu un appui international pour son exécution.
« Les maladies ne connaissent pas de frontières, surtout dans la communauté mondialisée actuelle. C'est dans notre intérêt à tous d'aider Haïti et la République dominicaine à réaliser leur objectif d'éliminer complètement ces maladies, et non pas seulement de les contrôler. Mais surtout, c'est un impératif du point de vue éthique et humanitaire » précise le président de l'ITFDE et vice-président des programmes de santé du Centre Carter, le Dr. Donald R. Hopkins.
Après le tremblement de terre, les experts ont entrevu l'occasion de promouvoir l'élimination de ces deux maladies avec un impact important sur les activités de reconstruction, et encouragent la communauté internationale à appuyer la stratégie d'éradication dans le cadre de la stratégie générale de relèvement en Haïti. En février 2012, pour la première fois de son histoire, Haïti a effectué une administration massive de médicaments à toutes les zones touchées par la filariose lymphatique-.
Hispaniola est la seule île des Caraïbes dans laquelle la malaria est endémique, et elle représente également plus de 90 % de tous les cas de filariose lymphatique sur le continent américain. Les deux maladies sont beaucoup plus fréquentes en Haïti que dans la République dominicaine. Les responsables de la santé publique demeurent préoccupés par le fait que les pertes humaines et dommages causés aux infrastructures et aux ressources gouvernementales par le séisme qui a frappé Haïti sont susceptibles d'avoir empiré la situation en termes de malaria et de filariose lymphatique ainsi que d'autres problèmes de santé.
La malaria et la filariose lymphatique nuisent également à l'économie, puisque ces deux maladies résultent de la pauvreté et entraînent encore plus de pauvreté.
####
Contacts avec la presse:
Service des communications stratégiques et des communiqués de presse,
Ministère de la Santé, République dominicaine
Luis Garcia, Directeur
E-mail: luisrgarcia15@hotmail.com
Téléphone portable : 809-910-0415
Alberto Quezada, Directeur adjoint
E-mail: quezada.alberto218@gmail.com
Téléphone portable : 928-847-3190
Services des communiqués de presse, Ministère de la Santé Publique et de la Population, Haïti
Gabriel Thimothe
E-mail: gabythimo1@yahoo.fr
Service des informations publiques, Centre Carter
Emily Staub
E-mail: Emily.Staub@emory.edu
Téléphone: 404-420-5126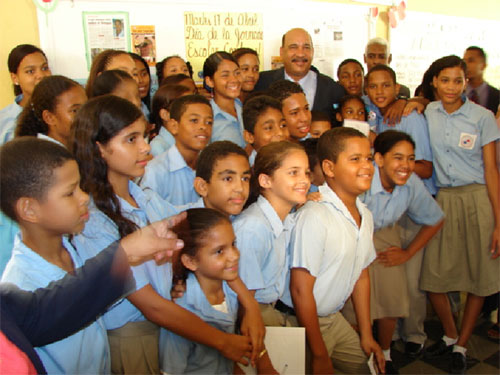 « Éliminer les sites de reproduction des moustiques dans chacun de nos logements »
Photos et vidéos professionnelles disponibles sur demande. Pour de plus amples détails sur l'initiative binationale Hispaniola : http://www.cartercenter.org/health/hispaniola-initiative/index.html
Related Resources