Aug. 27, 2015
Contacts: In Atlanta, Rennie Sloan, rennie.sloan@cartercenter.org 
In Monrovia, Liberia, Janice Cooper, janice.cooper@cartercenterliberia.org

ATLANTA…The Carter Center's Mental Health Program in Liberia, in partnership with the Liberia Ministry of Health, has exceeded its goal of training 150 mental health clinicians by 2015, working largely in primary care clinics and hospitals across all 15 counties to provide much needed care. The newest class of 22 clinicians who graduated today brings the total mental health clinicians trained to 166 and will join the effort to improve access to mental health services in Liberia.
"Liberia has made great progress in building a brighter future for its citizens by investing in mental health, an issue affecting many worldwide," said former U.S. First Lady and Carter Center Co-founder Rosalynn Carter.
Liberia is on course to reach its goal of expanding access to mental health care to 70 percent of the population within the next few years. Previously, this nation of 4.3 million had one psychiatrist to meet the needs of at least 300,000 Liberians suffering from mental illnesses.
The new graduates - made up of Liberian nurses, physician assistants - completed the Carter Center's six-month, free, Post-Basic Mental Health Training Program in August 2015 in Gbarnga, Bong County, at Phebe School of Nursing.
"This class of graduates marks an important milestone in the shift to strengthen mental health services in Liberia. The Carter Center program graduates have provided life-changing mental health and psycho-social support services throughout Liberia, especially for those facing the aftermath of the Ebola epidemic," said Dr. Bernice Dahn, Minister of Health in Liberia.
Graduates of the Carter Center program passed a certification exam in August to receive credentials from the Liberian Board of Nursing and Midwifery and the Liberia Physician Assistants Association which allows them to return to their former mid-level positions in primary care clinics as mental health specialists. These graduates have been critical to Liberia's psycho-social response to Ebola.
Since 2010, program alumni have made a lasting impact in their communities by establishing new services at the ground level. Clinicians have opened 10 clinical practices in prison systems, trained nurse midwives to screen for maternal depression, treated refugees from the Ivory Coast conflict, supported the nation's first mental health consumer organization, worked in Ebola Treatment Units (ETUs) and provided psychosocial supports to individuals and families affected by the Ebola virus. Some alumni are also educators who will return to classrooms to ensure the next generation of primary care workers will be better prepared to address mental health care.
In September 2012, Liberia was awarded a prestigious Grand Challenges Canada grant as part of a three-country project entitled Mental Health Beyond Facilities led by Makerere University School of Public Health and the Carter Center Liberia Program. The three-year initiative involves the Carter Center Mental Health Program, the Ministry of Health in Liberia, and the Liberia Center on Outcomes Research in Mental Health. The project is implemented in Sinoe County, one of Liberia's 15 counties.
While every Liberian county now has at least three mental health clinicians, there remains a need to build up services in places with immense treatment gaps. The largest concentration of Carter Center-trained clinicians, 43, serves a population of more than 1 million in Montserrado County, where the capital, Monrovia, is located. Outside Montserrado, the average number of mental health clinicians per county is six. Remote counties like Sinoe and Grand Gedeh each have 10 clinicians, River Gee has eight, and Maryland and Lofa each have nine clinicians.
"With every group of clinicians trained, there is a special excitement around how they will contribute to gaps in the still emerging mental health system. We are especially proud of their contributions to meet the mental health and psychosocial needs of the population during the last six months," said Dr. Janice Cooper, a native Liberian and project lead for the Carter Center's mental health initiative in Liberia.
The psychological impact of more than a decade of civil conflict, which ended in 2003, has contributed to a mental health crisis in Liberia that has been intensified by: misconceptions, stigma, and the resulting discrimination surrounding mental illnesses; lack of mental health care training for health professionals; and inadequate supplies of necessary medications. The Ebola crisis exacerbated these needs.
This year, The Carter Center began implementing a three-year initiative to address the psychological effects of Liberia's Ebola crisis and to promote psychosocial health in the country. The project, Supporting Psychosocial Health and Resilience in Liberia, is funded by Japan through the Japanese Social Development Fund, a trust fund administered by the World Bank. The project is expected to reach approximately 18,000 beneficiaries in Montserrado (hosting Monrovia) and Margibi counties.
The Carter Center's Mental Health Program in Liberia is supported by contributions from individuals, foundations, governments, and corporations. The Center's partners include the John P. Hussmann Foundation, which aims to provide life-changing assistance through medical research, education, and direct aid to vulnerable individuals with urgent needs or significant disabilities. The Hussman Foundation's four-year commitment to the Mental Health Program in Liberia has been critical to the program's success.
Learn more about the Carter Center's mental health work in Liberia
Meet Margaret Ballah | On the Frontlines of Mental Health Care in Liberia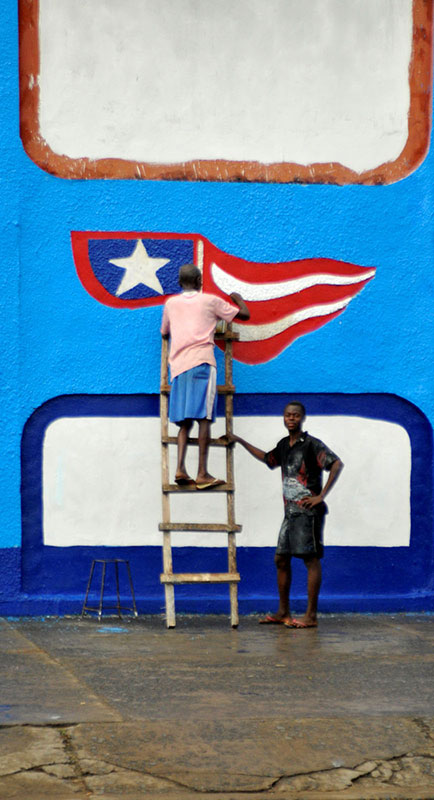 The psychological impact of more than a decade of civil conflict, which ended in 2003, has contributed to the mental health crisis in Liberia. The Ebola crisis exacerbated these needs. (Photo: P.Rohe/ The Carter Center)