Feb. 11, 2008
Watch the video
(Note:  Video download time will vary according to Internet connection speed. Total viewing time is 1:36:53.)
 CONTACT:
In Atlanta, Deborah Hakes 404-420-5124
ATLANTA....Dialogue that engages all stakeholders in the Israeli and Palestinian peace process is critical to resolve the current crisis, according to three Middle East experts who convened at The Carter Center on Friday, July 13. The panel also addressed risks of the "West Bank first" policy, which is being promoted by the United States and a few European governments to address the Gaza takeover by Hamas in June. The discussion is available for viewing on the Carter Center's Web site at www.cartercenter.org
Panelists included Daniel Levy, former adviser to Israeli Prime Minister Ehud Barak and leader of the Geneva Peace Initiative; Mustapha Barghouthi, former minister of information in the Palestinian National Unity Government; and William Sieghart, founder and chairman of Forward Thinking, an independent UK charity addressing the growing social isolation of Muslim communities in Britain and promoting a more inclusive peace process in the Middle East.
"It's very easy to demonize people that you never meet," said Siegart. "The central problem in this conflict at heart is the vast core of the policy of Israel, the top four or five hundred people who run the country, have never met anyone from Hamas, and none of the Hamas leadership has ever met any Israeli except as their jailer in prison. That is no basis for human dialogue…It's perfectly plausible for you to engage with people without endorsement of their tactics and their atrocities and bring them to the table."
Barghouthi expressed that the "West Bank first" policy, which aims to bolster President Mahmoud Abbas' emergency assembled government and further isolate Hamas, undermines the goal of Palestinian democracy and unity as prerequisites for peace. 
"What do you mean by democracy?" Barghouthi asked, referring to U.S. policy.  "One of the biggest achievements by the Palestinians under occupation is to build a democratic system. It's not a fantastic democratic system but it's the best democratic system in the Arab world. What is happening now is nothing but slaughtering democracy." 
Levy argued that the policy could lead to even greater extremism and is not in Israel's interest. 
"The more you create this humiliation and anger, especially in today's destabilized Middle East, and if we if we push back as we are currently doing against Hamas, you're likely to create the kind of space in which Al Qaeda look-alikes are going to take root," he said.
The event was part of the Carter Center's ongoing efforts to draw attention to critical issues of democratic development and to identify opportunities to promote peace and justice in the Palestinian territories.
The Carter Center also will issue periodic public reports on a series of critical issues in the conflict, to be available on the Center's Web site.
The Carter Center has worked for more than 10 years to promote democratic institutions and elections in the occupied Palestinian territories. 
"Our efforts have been focused on a main goal to build what we hope are the precursors of strong democratic institutions in a future Palestinian state, and see that as being a critical element to ultimately building sustainable peace in the region," said David Carroll, director of the Carter Center's Democracy Program.
####
"Waging Peace. Fighting Disease. Building Hope." The Carter Center celebrates its 25th anniversary in 2007. A not-for-profit, nongovernmental organization, The Carter Center has helped to improve life for people in more than 65 countries by resolving conflicts; advancing democracy, human rights, and economic opportunity; preventing diseases; improving mental health care; and teaching farmers in developing nations to increase crop production. The Carter Center was founded in 1982 by former U.S. President Jimmy Carter and his wife, Rosalynn, in partnership with Emory University, to advance peace and health worldwide. Please visit www.cartercenter.orgto learn more information.


View the 2008-2009 Rosalynn Carter Fellowships for Mental Health Journalism brochure (PDF)
Download the Applicant Profile form (Word doc)
Learn more:
Carter Center activities in Israel and the Palestinian Territories

Carter Center Human Rights Program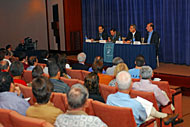 Carter Center Photo:  D. Hakes
Three distinguished Middle East experts join Carter Center Democracy Program Director David Carroll for a panel discussion July 13, 2007.
Watch the video