Read Nepali Version (PDF)

CONTACTS:
In Atlanta: Deborah Hakes, +1 404 420 5124
In Kathmandu: Darren Nance, +977 1 444 5055/1446
I'm happy to be back in Nepal and to be briefed by The Carter Center's long-term observers, political leaders, marginalized groups, and election officials here. I admire deeply what's been accomplished by the people of this great country over the past year. The Carter Center is here to support you in any way that we can, and to that end our long-term observers have been deployed since March visiting over 70 districts to learn about the electoral and political environment.

Constituent Assembly election
Nepal is in the midst of a historic transformation and this difficult process requires shared commitment from the government, civil society, marginalized groups, and most importantly the public. The country has set itself the essential goal of holding a constituent assembly election, and I support the significant progress toward that objective that has been made during my short time here. I urge the government to swiftly complete all necessary electoral preparations in order to hold an election in the month of Mangsir (November/December), including announcing a date and resolving any outstanding issues such as the electoral constituencies. Compromise will be necessary to avoid conflict during this period.

Additionally, I would like to highlight two areas which I believe deserve increased focus in order to allow for an honest and credible election and future progress towards peace and reconciliation:

Improved security environment
In the meetings that I have had over the past four days as well as in the reports I have received from The Carter Center's long-term observers, everyone is concerned about the problems of insecurity and violence in Nepal. The present law and order situation is unacceptable. A safe and secure environment is a core requirement for progress in the transition process. I have spoken with Chairman Prachanda, leader of the Maoists, about the problems with the Young Communist League (YCL) and he has personally assured me that he takes this matter very seriously. He acknowledged that there have been some problems and said that he himself will take the responsibility to end this bad behavior. I welcome these assurances and my staff will be monitoring the YCL closely to ensure that their future behavior is in line with these promises. I have also been assured by Madhesi Janadhikar Forum leadership that their group is committed to nonviolence and peace, and I also intend to continue monitoring this commitment.

Additionally, every democratic country in the world has a strong police force as part of its civil administration. The role of the police is to protect the people and make them feel safe. The Nepal police do not appear to have adequate political support nor the confidence of the Nepali people and this is of critical concern to me. I hope the government and political parties at all levels will work closely together on this issue to ensure that the police have sufficient morale, capacity, and authority to carry out their important work in a fair manner that is respectful of human rights. Chief District Officers must also have the authority to act independently and quickly to deploy the police.

Need for inclusivity
For the first time in Nepal's history, marginalized peoples are exercising their democratic right to be heard and to participate fully and equally in Nepali society. Their concerns are legitimate and I support them. When these rights are exercised in a peaceful way, it is an important and healthy part of the democratic process. I do not believe that the road of violence will ultimately lead to success.

It is important to realize that this election should be viewed as only an interim step in a much larger, longer, and more important process – the constituent assembly itself. It is there that the complex issues being raised, such as restructuring the state, should be vigorously debated. Continued dialogue and compromise are needed in order to ensure that a representative constituent assembly is able to take up these critical issues.

Serious divisions will recur unless competent and responsible people are chosen after the election to fill party quotas on the proportional representation list. Those selected should represent the interests of their own marginalized group.

I want to close by repeating how impressive a path the Nepali people have chosen. I urge you to stand up to your growing reputation in the world and unite around the long-term goals of sustainable peace, prosperity and participation in a representative democracy for all Nepalis. I offer you my best wishes and continued support and express my respect for what is being accomplished here in Nepal.

Thank you.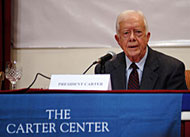 Former U.S. President Jimmy Carter addresses media during a news conference June 16, 2007, in Kathmandu, Nepal.
Learn more about the Carter Center's work in Nepal
June 12, 2007: Former U.S. President Jimmy Carter to Visit Nepal

March 9, 2007: The Carter Center Deploys Election Observers in Nepal
April 16, 2007: Pre-Election Statement: Carter Center Election Observation Mission in Nepal

June 8, 2007: The Carter Center International Election Observation Mission in Nepal: Second Pre-Election Statement