Nov. 6, 2007
Contact: Deborah Hakes, 404-420-5124
  
Atlanta…The Carter Center condemns recent actions by Pakistani President Pervez Musharraf to suspend the country's Constitution and proclaim a state of emergency. In the process, members of the independent judiciary, news media, and human rights defenders have been abused and imprisoned. Many activist lawyers demanding restoration of the Pakistani Constitution and rule of law have also been arrested.  
 
The Carter Center condemns these measures and calls for immediate release of all human rights defenders. Among those under house arrest is Asma Jahangir, leading Pakistani lawyer and president of the Human Rights Commission of Pakistan. A house arrest order also was issued against Hina Jilani, a Pakistani lawyer and the U.N. special representative of the secretary-general on Human Rights Defenders, upon her return to Pakistan.  Ms. Jilani is a long-time partner of The Carter Center's annual Human Rights Defenders Policy Forum, organized under the leadership of former U.S. President Jimmy Carter and U.N. High Commissioner for Human Rights Louise Arbour. 
 
President Musharraf's actions, which he justified as counter-terrorism measures, served to preempt the impending Pakistan Supreme Court's decision on the illegality of President Musharraf's recent re-election.  Concerns for terrorism do not justify suspension of the rule of law and cannot be used as means to shatter foundations of democratic governance.
 
The U.S. government and Congress should make clear that non-humanitarian aid to Pakistan is conditioned on restoration of the judiciary and free press, the release of lawyers and human rights defenders, and a return to the path of free and fair elections.  Nearly 10 billion dollars have gone to President Musharraf and his government since 2001.  American taxpayers will legitimately ask whether their money is supporting this tyrannical act.  
 
The crisis in Pakistan demonstrates that any government can claim to be fighting terrorism while actually undermining that goal.  Lawyers, human rights defenders, journalists, and artists in Pakistan have been working for decades to achieve a hopeful future for their nation.  Yet these people are being targeted under arrest and assault during the current dissolution of the courts, shutting down of independent media, and suspension of the Constitution.
 
This is an opportunity for the United States to show it will support brave people on the frontlines of defending freedom worldwide.
####
"Waging Peace. Fighting Disease. Building Hope."
The Carter Center celebrates its 25th anniversary in 2007. A not-for-profit, nongovernmental organization, The Carter Center has helped to improve life for people in more than 70 countries by resolving conflicts; advancing democracy, human rights, and economic opportunity; preventing diseases; improving mental health care; and teaching farmers in developing nations to increase crop production. The Carter Center was founded in 1982 by former U.S. President Jimmy Carter and his wife, Rosalynn, in partnership with Emory University, to advance peace and health worldwide. Please visit www.cartercenter.org to learn more about The Carter Center.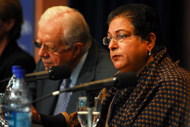 Carter Center Photo: D. Hakes
Learn more about human rights defender Hina Jilani (PDF)
Voice from House Arrest: Asma Jahangir - Don't Let Pakistan Follow Burma