May 09, 2015
Contact: In Atlanta, Deanna Congileo, dcongil@emory.edu
GEORGETOWN, GUYANA - President Carter was not feeling well and has departed Guyana to return to Atlanta today. The Carter Center election observation mission in Guyana is continuing its work and will keep him informed of developments. President Carter is hopeful about Guyana's election and expressed his commitment and that of The Carter Center to supporting Guyana in the days ahead, stressing the need for a peaceful process before, during, and after the election.
###
"Waging Peace. Fighting Disease. Building Hope."
A not-for-profit, nongovernmental organization, The Carter Center has helped to improve life for people in over 80 countries by resolving conflicts; advancing democracy, human rights, and economic opportunity; preventing diseases; and improving mental health care. The Carter Center was founded in 1982 by former U.S. President Jimmy Carter and former First Lady Rosalynn Carter, in partnership with Emory University, to advance peace and health worldwide.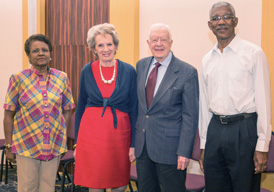 Sunday morning, before leaving Georgetown, former U.S. President Jimmy Carter and The Carter Center election observation delegation co-leaders — Dame Billie Miller of Barbados and Dame Audrey Glover of the United Kingdom — met with some of Guyana's leaders. Above, (from left): Miller, Glover, Carter, Guyana presidential candidate David Granger.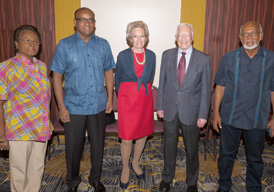 (From left): Miller, former Guyana President Bharrat Jagdeo, Glover, Carter, Guyana President Donald Ramotar. (All photos: The Carter Center)