Feb. 11, 2007
Contact:
Emily Staub and Meryl Bailey, The Carter Center
Cell Phone: 251 9 12 144 177
Atlanta Office: 404-420-5126
Email: Emily.Staub@emory.edu
JUBA, Sudan…Former U.S. President Jimmy Carter and Government of  Southern Sudan Minister of Health Dr. Theophilus Ochang Lotti, during a meeting at the National Assembly on Feb. 10, 2007, encouraged top officials of the Government of Southern Sudan to continue their progress in conquering two of the region's most debilitating scourges—Guinea worm disease and trachoma. Each program was praised for its significant accomplishments, but President Carter reiterated the need to eliminate Guinea worm disease from southern Sudan before the end of the decade. 
"The dedication and cooperation of government and program officials to reduce incidences of these two ancient afflictions in communities show renewed hope for prosperity and peace in Sudan," said President Carter, founder of The Carter Center. "The great challenge remains for us to continue efforts to ease unnecessary suffering caused by trachoma and to eradicate Guinea worm disease by 2009. The role of water sector partners is especially important to combat these diseases, as both reflect inadequate water supply."  
The meeting, the first by President Carter to Juba since 1995, was attended by assembly members, local officials, health sector partners, and members of the press. President Carter praised the efforts of the Guinea worm eradication and trachoma control programs of the Government of Southern Sudan Ministry of Health. President Carter and his wife, Rosalynn, were joined in Juba by a delegation of high-level Carter Center officials including Dr. John Hardman, executive director of The Carter Center, John Moores, chairman of the Carter Center's board of trustees, and Dr. Donald Hopkins, associate executive director of the Carter Center's health programs. Lions Clubs International President Jimmy Ross also accompanied President Carter on his trip to Sudan.
ERADICATING GUINEA WORM DISEASE
Sudan remains the greatest challenge to Guinea worm disease eradication; it reported approximately 20,300 cases in 2006, a significant but expected increase from the 5,569 reported in 2005. The increase in cases followed the January 2005 peace accord betweenthe government of Sudan and the Sudan People's Liberation Movement/Army, which has allowed health workers to reach areas previously inaccessible due to conflict. Today southern Sudan contains approximately 81 percent of all remaining cases of Guinea worm disease in the world.
Meanwhile, in the northern states of Sudan, where indigenous transmission of Guinea worm disease has been interrupted since 2001, The Carter Center continues to work with the federal Ministry of Health in Sudan to reduce suffering from river blindness and blinding trachoma.
For more than two decades, The Carter Center has been deeply committed to alleviating suffering in Sudan and finding ways to bring lasting peace to the country, where a 21-year civil war has destroyed physical infrastructure and limited access to basic social services. In 1995, President Carter was able to secure a six-month cease-fire to allow for the treatment of Guinea worm and other diseases. During this time the Sudanese Ministry of Health, The Carter Center, U.N. organizations, and other nongovernmental organization staff visited 2,253 Guinea worm villages, distributed 115,425 cloth filters to households, and determined baseline prevalence of Guinea worm in southern Sudan. Additionally, this humanitarian cease-fire, the longest of its kind, enabled the interventions of other health initiatives, including river blindness control and mass vaccination for polio and measles.  
During his trip to Juba, President Carter met with Southern Sudan President Salva Kiir Mayardit. Afterward, President Carter visited the memorial of the late Sudanese People's Liberation Movement leader Dr. John Garang. A briefing at the National Assembly was held to address the current status of Carter Center-assisted initiatives to curb incidence of the two diseases in southern Sudan.
During the first in-country program review of the Southern Sudan Guinea Worm Eradication Program in December 2006, Government of Southern Sudan Vice President Dr. Riek Machar reiterated the government's commitment to achieve eradication by the 2009 target date by underscoring the importance of improved safe water delivery. "The Government of Southern Sudan has outlined the need for an emergency provision of safe drinking water targeting Guinea worm-endemic areas, which will not only contribute to the elimination of Guinea worm disease, but will also cut down the prevalence of other life-threatening water-borne diseases like cholera and typhoid," he said.
During 2006, the partnership between the Government of Southern Sudan's Ministry of Health and The Carter Center made great progress in developing a community-based disease surveillance system composed of 13,637 trained village volunteers, 896 area supervisors, 82 county field officers, and 19 technical assistants. The Government of Southern Sudan appointed a Southern Sudan Guinea Worm Eradication Program Coordinator to lead the eradication effort. The state ministries of health each have appointed a state Guinea worm coordinator to lead the eradication program at the state level. This impressive team is supported by a logistics network of field offices and satellite storage facilities, and overall guidance is provided by the Guinea Worm Eradication Programme Secretariat, based in Juba, under the Government of Southern Sudan Ministry of Health.
The Southern Sudan Guinea Worm Eradication Program oversees a community-based system that supports active surveillance, monthly reporting of cases, health education, distribution of cloth and pipe filters, application of ABATE® larvicide to eliminate parasitic larvae from water sources, and advocates with water-sector organizations for the provision of safe sources of drinking water at Guinea worm-endemic villages.
CONTROLLING TRACHOMA
Although the prevalence of the disease in southern Sudan is very high as a result of nearly four decades of civil war, a recent evaluation by the trachoma control program in Southern Sudan has shown that simple measures applied at the community level can nearly eliminate blinding trachoma in a region with one of the highest rates of blinding trachoma in the world. 

The evaluation results, published in the August 2006 issue of the medical journal The Lancet, centered around the SAFE strategy (surgery, antibiotics, face washing, and environmental sanitation). After three years of intervention using the SAFE strategy in communities in southern Sudan, prevalence of active trachoma and unclean faces was reduced by up to 92 percent and 87 percent, respectively. The evaluation was implemented with support of the Lions Clubs International Foundation in four districts with a combined population of almost 250,000 people. The emerging disease surveillance system will continue to build on these efforts. 
####

Former U.S. President Jimmy Carter will call international attention to the health needs among impoverished communities in Ghana, Sudan, Ethiopia, and Nigeria, when he leads a delegation of senior-level Carter Center officials to Africa on Feb. 6-16.
The Carter Center celebrates its 25th anniversary in 2007. A not-for-profit, nongovernmental organization, The Carter Center has made tremendous contribution to improving life and alleviating human suffering in more than 65 countries around the world by resolving conflicts; advancing democracy, human rights, and economic opportunity; preventing diseases; improving mental health care; and teaching farmers to increase crop production. The Carter Center was founded in 1982 by former U.S. President Jimmy Carter and his wife, Rosalynn, in partnership with Emory University, to advance peace and health worldwide. Please visit www.cartercenter.org to learn more about The Carter Center.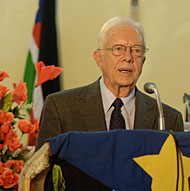 Carter Center Photos:  Louise Gubb
Former U.S.  President Jimmy Carter speaks to the Peoples' Assembly of Southern Sudan Feb. 10, 2007, in Juba.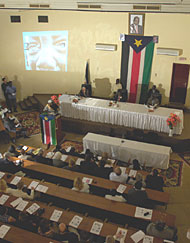 The Carter Center delegation attend a special sitting of the People's Assembly of Southern Sudan - a region where a fragile peace still holds, bringing eradication of Guinea worm and control of trachoma closer to being realized.
The Carter Center: At Work in Sudan
Learn more about the Carter Center's Guinea Worm Eradication and Trachoma Control Programs