Aug. 31, 2009
Contact: Emily Staub, The Carter Center
Atlanta office, +1-404-420-5126
Emily.Staub@emory.edu
ATLANTA…Ethiopia's devastating child mortality rates—which are among the highest in the world—could be significantly decreased as a result of treatment to control the nonfatal eye disease trachoma, suggests new research published in the Sept. 2, 2009, issue of the Journal of the American Medical Associationby the University of California at San Francisco and The Carter Center, in partnership with the Ethiopia Ministry of Health.
"We've known for 20 years that we can easily prevent trachoma and the excruciating pain and blindness it causes. This study shows trachoma control goes far beyond blindness prevention—it also saves lives," said former U.S. President and Carter Center Founder Jimmy Carter.
Trachoma is an infection of the eye caused by the bacterium Chlamydia trachomatis. It is the leading cause of infectious blindness globally, and Ethiopia is the most affected country in the world, with nearly the entire nation of 78 million at risk of the disease, 40 percent of children between one-and nine-years-old with signs of infection, and more than 1.2 million people at immediate risk of blindness.
Trachoma is controlled using an integrated prevention program developed by the World Health Organization known as 'SAFE' (Surgery, Antibiotics, Facial cleanliness, and Environmental improvements). To support Ethiopia's national Trachoma Control Program work, lead study authors Drs. Travis Porco and Tom Lietman from the University of California at San Francisco and Dr. Paul Emerson, director of the Carter Center's Trachoma Control Program, have been examining the most strategic use of antibiotics in the context of SAFE. The principal antibiotic used for trachoma control is azithromycin (Zithromax®), which is donated by Pfizer Inc. through the International Trachoma Initiative.
During the studies, which were conducted in the Amhara Region, more than 18,000 children from 48 villages between the ages of one and nine years were followed. Children in 36 villages received azithromycin at least once during a 12-month period, while those in the remaining 12 villages did not receive treatment until after the 12-month visit. Censuses were conducted at baseline and at 12 months to determine population changes and to assess mortality.
"A large study like this is needed to show an effect on mortality, and we estimate that childhood mortality decreased by at least 10 percent," said Dr. Emerson, who noted that a total of 12.6 million doses of azithromycin were distributed in the Amhara Region in 2008 through the efforts of the Lions-Carter Center Trachoma Control Program. "Antibiotics aren't the answer to Africa's public health problems, but when they are appropriately used as part of the SAFE strategy to fight trachoma, which includes hygiene education and the promotion of water and sanitation, there appear to be more collateral benefits to health."
Remarkably, the observed overall mortality in the children who had taken azithromycin was just half of that observed in children who had not taken the drug. The authors believe this was because the antibiotic also is effective against other non-target killers such as respiratory tract infections, bacterial diarrheal disease, and malaria.
"For years, people in trachoma-affected communities have reported that the antibiotic helped address other health problems, but we wanted to observe and confirm scientifically that this was the case." said Dr. Lietman. "While we are very encouraged by our findings, we are eager for others in the field to replicate this research in other countries and identify if the added benefits of azithromycin distribution seen in Ethiopia are taking place throughout Africa."
Since 2000, The Carter Center, with funding from the Lions-Carter Center SightFirst Initiative, has worked with the government of Ethiopia to fight trachoma in the Amhara Region, supporting sight-saving operations for 145,000 patients, distributing almost 30 million doses of azithromycin, assisting hygiene education efforts for nearly 17 million people, and helping to construct 909,000 household latrines.
"In light of these findings, we urge the international community to renew resources and commitment to endemic nations' efforts to control trachoma, particularly given how we have only begun to evaluate the broader impact of these cost-effective interventions, "said Dr. Emerson. "Together, we can eliminate blinding trachoma in Ethiopia and elsewhere in the world." 
EDITOR'S NOTE:
Citation: Porco, TC, Lietman, TM, Emerson, P, et al. (2009) Effects of Mass Distribution of Azithromycin for Trachoma Control on Overall Mortality in Ethiopian Children. JAMA. 2009;302[9]:962-968. Note: Subscription is required for full text version. 
Abstract available at http://jama.ama-assn.org/cgi/content/short/302/9/962?home. 
Up-to-date trachoma resources including information on the Carter Center-assisted trachoma program inEthiopia, graphics, and stories from the field are available on the Center's site.
###
"Waging Peace. Fighting Disease. Building Hope."
A not-for-profit, nongovernmental organization, The Carter Center has helped to improve life for people in more than 70 countries by resolving conflicts; advancing democracy, human rights, and economic opportunity; preventing diseases; improving mental health care; and teaching farmers in developing nations to increase crop production. The Carter Center was founded in 1982 by former U.S. President Jimmy Carter and his wife, Rosalynn, in partnership with Emory University, to advance peace and health worldwide. Please visit www.cartercenter.org to learn more about The Carter Center.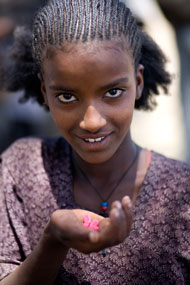 Carter Center Photo
New research suggests that Ethiopia's devastating child mortality rates could be significantly decreased as a result of treatments with the antibiotic azithromycin to control the nonfatal eye disease trachoma.