Feb. 9, 2011
Contact: Paige Rohe,prohe@emory.edu, 404-420-5129
ATLANTA, GA…Original artwork by former U.S. President Jimmy Carter, a baseball signed by four presidents, a behind-the-scenes tour of Delta Air Lines, and historic memorabilia from the Carter presidential campaign and White House years are among more than 150 items up for public auction in Port St. Lucie, Fla., on Feb. 26, 2011, during the Carter Center's annual Winter Weekend event. The auction, held for the past 18 years, is a critical source of support for the not-for-profit Center's international work advancing peace and health. Last year, the highest bid items at the fundraiser were two original paintings by President Carter, which sold for $290,000 each.
President and Mrs. Carter participate each year in the four-day recreational retreat with friends and supporters held at Club Med in Port St. Lucie, culminating in an auction to benefit The Carter Center.
The auction has both live and silent components with bidding accepted via online form or fax (see bidding information below).
Special auction items include:
Original artwork and prints by President Carter;
A Heisman Trophy football signed by 20 Heisman Trophy winners, including 2010 Heisman winner Cam Newton;
One of only six known copies of the rare Chicago Tribune "Dewey Defeats Truman" newspaper;
A fly fishing trip with President and Mrs. Carter at Brigadoon Lodge, one of
the premier fly fishing resorts in North America;
A baseball hand-signed by four U.S. presidents (Gerald Ford, Jimmy Carter, George H.W. Bush, and Bill Clinton);
A bottle of President Carter's homemade, private-label wine;
Luxurious vacations to Rome, Italy, U.S. Virgin Islands, Club Med resorts, and many other locations;
A behind-the-scenes look at operations at Delta Air Lines, including two first
class round-trip tickets to Atlanta;
A package of books, magazines, and other memorabilia signed by astronaut John Glenn;
Framed memorabilia from the Carter presidential campaigns;
Special V.I.P. tickets and backstage passes to concerts with legendary blues musician B.B. King;
A handmade flamenco guitar by the Rodriguez family, signed by President Carter; and
Fine jewelry, rugs, artwork, and collectables.
Since its inception, the live auction has raised approximately $16 million to support the Center's
work to wage peace, fight disease, and build hope in the world's poorest and most forgotten communities.
Click on the links below for more information on items in the live and silent auctions at Winter Weekend:
How to bid:
Bids are accepted via fax or online form until 4:00 PM EST on Feb. 26, 2011.
Individuals wishing to attend the auction and bid live may call Jay Beck 404-420-3809.
Donation proceeds will be used to support the activities of The Carter Center, a 501(c)(3) charitable organization.
###
"Waging Peace. Fighting Disease. Building Hope."
A not-for-profit, nongovernmental organization, The Carter Center has helped to improve life for people in more than 70 countries by resolving conflicts; advancing democracy, human rights, and economic opportunity; preventing diseases; improving mental health care; and teaching farmers in developing nations to increase crop production. The Carter Center was founded in 1982 by former U.S. President Jimmy Carter and his wife, Rosalynn, in partnership with Emory University, to advance peace and health worldwide. Please visit www.cartercenter.org to learn more about The Carter Center.
Visit our website CarterCenter.org  | Follow us on Twitter @CarterCenter | Favorite us on FacebookFacebook.com/CarterCenter | Watch us on YouTubeYouTube.com/CarterCenter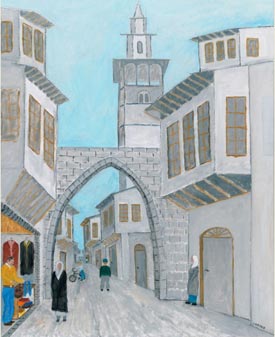 All photos: The Carter Center
A painting of Damascus, Syria by former U.S. President Jimmy Carter.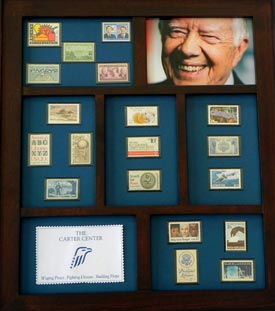 Silent auction items include this one-of-a-kind collage of actual postage stamps issued between 1936 and 2005, which celebrate President Carter's personal interests, his service in the U.S. Navy, his presidency, and The Carter Center.