Feb. 12, 2012
Contact: Paige Rohe, prohe@emory.edu, 404-420-5129
ATLANTA…Original artwork by former U.S. President Jimmy Carter, rare Camp David Accords memorabilia, and celebrity-autographed guitars are among the more than 150 items up for public auction in San Diego, Ca. on March 10, 2012, during the Carter Center's annual Winter Weekend event. For the past 19 years, the auction has been a critical source of support for the not-for-profit Center's international work advancing peace and health. Last year, the highest bid item at the fundraiser was an original painting by President Carter, which sold for $150,000.
President and Mrs. Carter participate each year in the four-day recreational retreat with friends and supporters – to be held this year at Hotel del Coronado in San Diego – culminating in an auction to benefit The Carter Center.
The auction has both live and silent components with bidding accepted via online form or fax (see bidding information below).
Special auction items include:
Original artwork and prints by President Carter;
A Heisman Trophy football signed by 22 Heisman Trophy winners, including 2011 Heisman winner Robert Griffin III;
Various original and reproduced Camp David Accords memorabilia, including three items signed by Anwar Sadat, Menachem Begin, and Jimmy Carter;
Presidential history memorabilia from Presidents Roosevelt, Truman, Ford, Carter, Clinton, George H.W. Bush, and George W. Bush;
A fly fishing trip with President and Mrs. Carter at Brigadoon Lodge, one of the premier fly fishing resorts in North America;
Rare photographs hand-signed by groups of U.S. presidents including (Gerald Ford, Jimmy Carter, George H.W. Bush, Bill Clinton, and Barack Obama);
A collection of more than 20 books signed by Nobel Peace Prize laureates;
Luxurious vacations to Rome, Italy, Palm Springs, Dubai, and many other locations;
Memorabilia from the Carter presidential campaigns;
Rare handcrafted guitars and interesting celebrity-autographed guitars;
Hand-carved furniture and decorative items by America's premier woodworkers; and
Fine jewelry, rugs, artwork, and collectables.
Since its inception, the Winter Weekend auctions have raised approximately $17 million to support the Center's work to wage peace, fight disease, and build hope in the world's poorest and most forgotten communities.
Click on the links below for more information on items in the live and silent auctions at Winter Weekend:
How to bid:
Bids are accepted via fax or online form until 4:00 p.m. PST (Pacific Standard Time) on March 10, 2012.
Donation proceeds will be used to support the activities of The Carter Center, a 501(c)(3) charitable organization.
###
"Waging Peace. Fighting Disease. Building Hope."
A not-for-profit, nongovernmental organization, The Carter Center has helped to improve life for people in more than 70 countries by resolving conflicts; advancing democracy, human rights, and economic opportunity; preventing diseases; improving mental health care; and teaching farmers in developing nations to increase crop production. The Carter Center was founded in 1982 by former U.S. President Jimmy Carter and former First Lady Rosalynn Carter, in partnership with Emory University, to advance peace and health worldwide.
Winter Weekend Auction Catalogs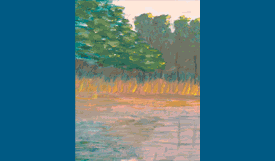 An original painting and prints by former U.S. President Jimmy Carter are among the auction items.