Feb. 10, 2008
Contact: Deanna Congileo, dcongil@emory.edu
Port St. Lucie, Fla….A bench of hard maple wood handcrafted by former U.S. President Jimmy Carter sold for $300,000 at an auction in Port St. Lucie on Feb. 9 to benefit the nonprofit Carter Center's initiatives to advance peace and health worldwide. Items in the silent and live auctions combined raised $1.2 million for the Center.
"I want to thank those who bought items at Winter Weekend and all of the Center's supporters for their generosity," said President Carter. "Their belief in the work of The Carter Center is making a difference for some of the most forgotten people in more than70 nations."

Founded in 1982, The Carter Center advances peace and health worldwide by: preventing and resolving conflicts; observing elections and strengthening democracy; protecting human rights; controlling and preventing unnecessary diseases in Latin America and Africa; and fighting the stigma against mental illnesses. 
Other top bids in the live auction were:
$210,000 for a one-of-a-kind photo signed by:  Rosalynn Carter, Jimmy Carter, Al Gore, Tipper Gore, George H. W. Bush, Hillary Clinton, Bill Clinton, Betty Ford, and Gerald Ford
$125,000 for a fly-fishing vacation with the Carters in the North Georgia mountains
$60,000 for a copy of the Camp David Accords with signatures by President Carter, Prime Minister Begin, Anwar Sadat, and Dr. Jehan Sadat, his widow 
$45,000 for a photograph of five presidents autographed by all of them  
All winning bids can be viewed at  www.cartercenter.org (links at right).
####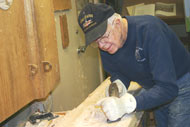 Photo credit: The Carter Center
(Click to enlarge)
Former U.S. President Jimmy Carter creates a hard maple wood bench in his workshop.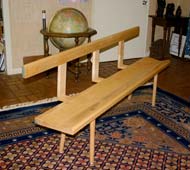 Photo credit: The Carter Center
(Click to enlarge)
The $1.2 million raised from the auction of this bench, and other unique items, will help support the Center's peace and health work worldwide.