Jan. 22, 2008
AWI ZONE, AMHARA REGION, ETHIOPIA. . .Today a group led by Lions Clubs International Foundation Chairperson Jimmy Ross witnessed a historic moment in trachoma control when the 10 millionth dose of azithromycin (Zithromax®) was dispensed to a person in  Awi Zone. The antibiotic, donated by Pfizer Inc, is a main strategy in the fight against the blinding disease in poor, rural areas. Representatives from The Carter Center, Lions clubs of Ethiopia, Pfizer, the national trachoma program, government of Ethiopia, and other partner organizations joined the celebration.
"As Lions, we are passionate about the need to end preventable blindness," said Ross. "It is heartening to see Ethiopian Lions making such a difference in their community." 
Awi Zone is located in the most trachoma-endemic area of the country. Together with the Amhara Regional Health Bureau, the international coalition is working to eliminate trachoma as a source of blindness from the region by 2012.
A disease caused by bacterial infection, trachoma is the leading cause of preventable blindness worldwide. Seven million people have lost their sight due to trachoma and another 500 million are at risk worldwide. It is estimated that there are 1 million Ethiopians suffering from severe trachoma who are at risk of immediate blindness, 600,000 of whom live in Amhara.
"Rosalynn and I have seen the devastating effects of uncontrolled trachoma on people and their families in Ethiopia," said former U.S. President Jimmy Carter, Lion and founder of The Carter Center. "The 10 millionth dose represents remarkable progress for those families suffering from the disease and proves that we can empower communities to protect themselves from blindness in the future. Lions Clubs International Foundation is a vital partner in this effort."
Trachoma control is based on the integrated strategy known as SAFE—Surgery, Antibiotics, Facial cleanliness, and Environmental improvement. To achieve Ethiopia's goal of eliminating trachoma from Amhara by 2012, the entire population at risk, around 18 million people, will need a minimum of three annual doses of the antibiotic in addition to reducing trachoma through improved sanitation and hand and face washing. The 10 millionth dose comes after just 18 months of full scale intervention and points toward meeting the elimination target date.
The Carter Center, with support from its partners, has been fighting trachoma in Africa since 1998. Today the Trachoma Control Program assists ministries of health in six endemic countries in Africa:  Ethiopia, Ghana, Mali, Niger, Nigeria, and Sudan. The Center's efforts are part of a global push to eliminate the blinding effects of the disease worldwide by 2020, including Ethiopia.
The Lions Clubs International Foundation has been involved with blindness prevention and treatment for more than 80 years through their SightFirst program. In addition to supporting tens of thousands of cataract operations, training ophthalmic nurses and surgeons, and strengthening eye care centers in rural and underserved areas, Lions educate communities on sight diseases and help to distribute azithromycin to fight trachoma.
####
Lions Clubs International Foundation is the charitable arm of Lions Clubs International, the largest service club organization in the world with 1.3 million members in 201 geographic areas and countries. LCIF was recently ranked the number one NGO in a Financial Times study. Since the beginning of the SightFirst program in 1990, Lions have restored sight to 7.3 million people with cataracts, prevented serious vision loss in 27 million people, and improved eye care services for hundreds of millions of people. LCIF has awarded $211 million in SightFirst grants. For more information, visit www.lcif.org.

The Carter Center was founded in 1982 by former U.S. President Jimmy Carter and his wife, Rosalynn, in partnership with Emory University, to advance peace and health worldwide. A not-for-profit, nongovernmental organization, the Center has helped to improve life for people in more than 70 countries by resolving conflicts; advancing democracy, human rights, and economic opportunity; preventing diseases; improving mental health care; and teaching farmers to increase crop production. Visit www.cartercenter.orgfor more information.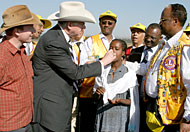 Photo Credit:  Frew Demke/The Carter Center

Dr. Paul Emerson (left), Carter Center Trachoma Control Program director, observes as Lions Clubs International Foundation Chairperson Jimmy Ross administers the 10 millionth dose of azithromycin to Messeleche Tilahun, 16, in the Awi Zone of Ethiopia on Jan. 23.  World Laureate Lion Tebebe Yemane-Berhan (far right), Teshome Gebre (center) -  the Center's Ethiopia country representative and Lions member - and other Lions observe the historic moment.