April 27, 2010
By Nicholas D. Kristof
This New York Times op-ed by Nicholas D. Kristof was published April 28, 2010.
Since ancient times, one of the world's most terrifying ailments has been caused by what the Bible calls "the fiery serpent," now known as Guinea worm.
Guinea worms grow up to a yard long inside the body and finally poke out through the skin. They cause excruciating pain and must be pulled out slowly, an inch or two a day. In endemic areas like this district in Lakes State of southern Sudan, people can have a dozen Guinea worms dangling from their bodies.
Yet this is a good news column. Continue reading >>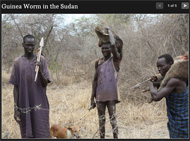 View the New York Times slide show - "Guinea Worm in the Sudan" >
Watch the Opinion video by Nicholas D. Kristof: Anyak vs. the Guinea Worm >