For Craig Withers, the Carter Center's director of program support, the bumblebee is the perfect symbol of success.
"Bumblebees shouldn't be able to fly; they're not well designed for it," he says. "But they don't know that, and so they fly."
Similarly, at The Carter Center, Withers takes on tasks that others deem impossible. Responsible for financing, personnel, logistics, and monitoring for the Center's nine health programs, Withers has participated in achievements far beyond the seeming capacity of the Center's 160 staff members.
Whether overseeing the procurement and distribution of 3 million bed nets for malaria prevention in Ethiopia in a mere six month time frame or transporting vehicles to Sudan's war-ravaged southern region during a massive scale-up of the country's Guinea worm eradication program, Withers has come to understand that seeming miracles are achieved through behind-the-scenes grit and determination.
"The dramatic epiphanies that people see in movies rarely occur in real life," says Withers. "What I have come to understand is that victory is achieved through a war of increments. A little progress each day is how a battle is won."
Withers attributes his tenacity to his first assignment in 1988 working in Nigeria to help establish the country's Guinea worm eradication program. At the time, the painful and debilitating parasite contaminated the drinking water in many areas of the country.
"We were starting from scratch and had to find every infected person in the country in order to start education and treatment programs. All the old Africa hands said it was impossible; you just couldn't do something like this in Nigeria."
But seven months later, Withers' team had. "We acted just like the bumblebee, and did the impossible," he says. Although Guinea worm is not yet gone from Nigeria, the number of cases has dropped dramatically from more than 650,000 cases in 1989 to approximately 40 in 2008.
Today under the leadership of The Carter Center, Guinea worm disease has been reduced by 99.8 percent. Of the original 20 countries that were targeted when the campaign began in 1986, only six remain endemic. It's Withers' job to make sure that the remaining Carter Center Guinea worm programs have all the financial and material resources necessary to get the job done.
"We are so close to achieving something beyond my wildest dreams: eradicating a second disease from the world," he says. Smallpox was the first, and Guinea worm is poised to be second. Withers continues, "It's going to require a lot of attention to detail, but we're almost there."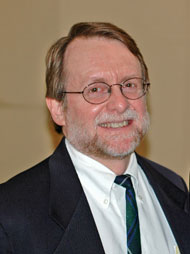 Carter Center photos
Craig Withers, director of program support, Carter Center Health Programs.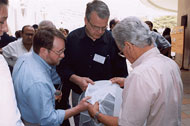 In Togo, Craig Withers (left) examines a water filter designed to help prevent Guinea worm disease.