Feb. 28, 2010
The last case of Guinea worm disease in Nigeria was suffered by Grace Otubu, 58, of Ezza Nkwubor village in Enugu state, whose worm emerged in November 2008. Twelve months later, Nigeria triumphed over the ancient, crippling affliction, also known as dracunculiasis, that had affected hundreds of thousands of Nigerians at its peak. The success of Africa's most populous nation against this debilitating waterborne parasite would not have been possible without the hard work of the endemic communities, the relentless vigilance of the national program, and the dedication of Gen. Dr. Yakubu Gowon, Nigeria's former head of state.
"General Gowon's contribution to Nigeria's success is invaluable. It is my sincere hope that more African leaders will follow his example," said President Carter. "He has been a passionate voice for Guinea worm elimination among his fellow Nigerians and other African nations. He is a good friend not only to me, but also to the people of Nigeria suffering from neglected diseases."
When The Carter Center began spearheading the Guinea worm eradication campaign in 1986, an estimated 3.5 million cases were found in 20 countries in Africa and Asia. Two years later, Nigeria was deemed the world's most Guinea worm–endemic country when the Nigerian Ministry of Health and The Carter Center began elimination efforts and conducted the first nationwide case search, resulting in 653,492 reported cases.
Gen. Gowon traveled exhaustively through some of the most isolated and forgotten regions of Nigeria - making 82 visits to 135 endemic communities since 1999 - to mobilize communities to adopt Guinea worm prevention methods such as filtering their drinking water and using the safe larvicide ABATE® (donated by BASF Corporation) to treat contaminated, stagnant water sources.
In recognition of Gen. Gowon's outstanding efforts, President and Mrs. Carter presented him with the Jimmy and Rosalynn Carter Award for Guinea Worm Eradication in 2006. It was the first time the award had been presented to a former head of state.
"Guinea worm elimination in Nigeria is very good news," Gen. Gowon said. "We are improving the economic well-being of the Nigerian people. Young ones will be well enough to attend school without having to suffer pains of the Guinea worm. Really, it's increasing productivity in the community, the nation."
Today, the challenge to wipe "the fiery serpent" off the face of the earth intensifies as the final fraction of one percent of cases (approximately 3,200 as of December 2009) is targeted in pockets of four remaining endemic countries - Sudan, Ghana, Mali, and Ethiopia.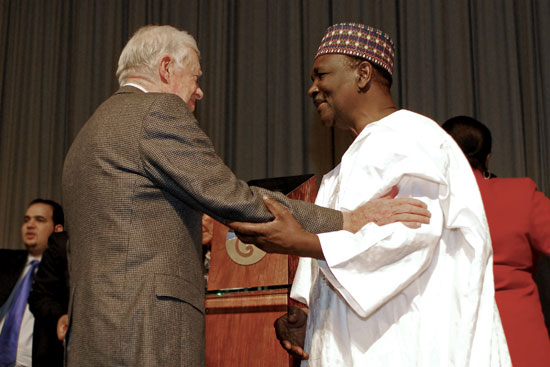 Photo credit: Carter Center/ D. Hakes
President Carter congratulates Nigeria former Head of State Gen. Dr. Yakubu Gowon for his tireless efforts to rid the country of Guinea worm disease during a ceremony in 2006.