His name means "water" and "life" in the Southeastern region of his native Nigeria, and perhaps no name could be more appropriate for Dr. Emmanuel Miri, resident technical adviser for the Carter Center's health programs in Nigeria.
Having spent decades fighting waterborne diseases in his homeland, Dr. Miri's work and accomplishments are expansive. In Nigeria, which is the only country that hosts all of the Center's disease programs-river blindness control, trachoma prevention, lymphatic filariasis elimination, schistosomiasis treatment, and Guinea worm disease eradication - Dr. Miri oversees programs that improve the quality of life for millions burdened by debilitating diseases that deter social and economic progress.
"These diseases are given little attention by national governments, as they are usually in impoverished rural areas, often remote and difficult to reach. They are not next door to the capital but at the very 'end of the road' in the most isolated and neglected areas," Miri said.
But there is good news from "Dr. Water," as he is affectionately known by many Nigerians, including former Nigeria Head of State General Yakubu Gowon, now a leader for Guinea worm eradication in Nigeria: These painful and debilitating plagues are not only treatable, they are preventable. Thanks to the dedication of Dr. Miri and his team of health workers and the commitment of the Nigerian government, endemic communities are now empowered to fight disease on the grassroots level.
"We have trained people at the community level so even in our absence, something is happening. Even one health worker's visit is good enough because you have left infrastructure in the community that will carry on," said Dr. Miri.
Training community members to prevent and treat these diseases themselves is just one aspect of a larger movement to increase the efficiency of health programs targeting isolated and impoverished areas. Although river blindness, lymphatic filariasis, and schistosomiasis can all be addressed individually, Dr. Miri and other Carter Center health workers have begun combining treatments and intervention programming to make the most of every visit to a village.
This integrated approach has meant a more efficient and effective use of time and resources that is vital to most developing nations with high disease burdens like Nigeria.
But for Dr. Miri, whose nearly threedecade public health career began in a rural hospital and has included service as director of preventive health for Nasarawa and Plateau states, real achievement is freeing the poor to enjoy good health.
"Most people in rural areas are farmers, and when you have a disease like Guinea worm, you are incapacitated, unable to continue with your work," he said. "By preventing the hundreds of thousands of cases that we do each year, we are freeing up that many more people to farm so that they will have food and be able to take care of their families."
Learn more about the Carter Center Health Programs >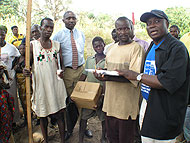 Photo credit: Carter Center/ E. Staub
Dr. Emmanuel Miri (far right) travels from household to household in Nigeria, distributing medication to prevent lymphatic filariasis and onchocerciasis.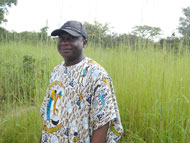 Photo credit: Carter Center/ E. Staub
Dr. Miri stands in a field outside a village in Nigeria. The pattern on his shirt commemorates the country's Guinea worm eradication efforts.