In 2007, 9-year-old Hubeida Iddirisu faced long days of pain as three Guinea worms began to emerge from blisters on her body. Hubeida was the victim of a particularly severe Guinea worm disease outbreak in her town of Savelugu, Ghana.
"I probably caught the worms when accepting a drink from a neighbor during my rounds of charcoal selling," she said.
An ancient and horrible affliction, Guinea worm disease (dracunculiasis) is contracted when a person drinks contaminated water that contains tiny fleas harboring the infective larvae of the Guinea worm. Inside the abdomen, the larvae mature and grow, sometimes to a length of 3 feet. Guinea worm is often called the "fiery serpent" for the painful, burning sensation that occurs when, after a year, a thread-like Guinea worm slowly emerges through a blister in the skin. The emerging worm must be carefully coaxed from the body by winding it around a stick a little each day for one to two months.
Every day for two weeks, a volunteer came to Hubeida's home to extract the worms. Often people suffer from more than one worm at a time, like Hubeida did and the incapacitating wounds caused by the worms typically take up to two months to heal. While the worms were emerging, Hubeida was unable to attend school, handle her household tasks, or work at her after-school job.
During the outbreak, the Ghana Guinea Worm Eradication Program, assisted by The Carter Center and its partners, stepped up efforts to halt the disease.
Guinea worm infection is avoided through health education and low-tech prevention methods such as ensuring that everyone in an endemic community uses freely provided cloth filters to strain out the Guinea worm larvae in drinking water. People who have emerging worms must be taught not to enter sources of drinking water, so they don't unwittingly allow the worms to release larvae into the water and continue the life cycle of the parasite. Water in stagnant ponds also can be treated with the safe larvicide ABATE®, donated by BASF Corporation.
A year later, Hubeida is free of Guinea worm disease. She is able to carry out her daily chores as well as her job selling charcoal to help support her family and pay for her three siblings' school fees. She's a bright "A" student, who gets high grades despite her long hours of work.
You can help change the lives of children like Hubeida by giving to the Carter Center's Guinea Worm Eradication Program. Click here to donate now >>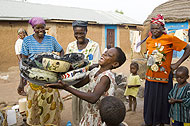 All photos: Carter Center/L. Gubb
Hubeida Iddirisu, who suffered from  three painful emergent Guinea worms in 2007, is Guinea worm free this year. Here she sells charcoal to her community in the evenings, to pay for her school fees and support her grandmother and siblings.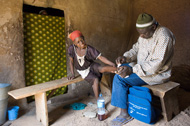 Volunteer Sulley Zakaria visits Hubeida Ideriss, 10, at home, and treats her three painful wounds where Guinea worms are emerging from her body.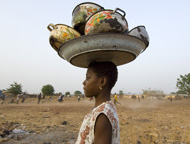 Hubeida Iddirisu is all smiles as she makes her rounds selling charcoal in her village.