Jan. 11, 2010
A crowd of children follow Jonel Mompremier, 27, as he travels from house to house in Ouanaminthe, Haiti. They giggle as the health worker asks the same question at every doorstep, "Does anyone at home have any fevers?"
If the answer is no, Mompremier uses the opportunity to educate the family about malaria, explaining how the potentially fatal disease is spread by a mosquito and can be prevented by covering standing water and sleeping under a bed net.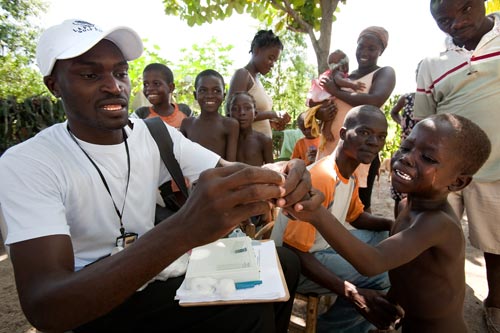 All Photos: Carter Center/P. DiCampo
Mompremier gently pricks the finger of a feverish boy to test for malaria in Ouanaminthe, Haiti.
But if the answer is yes, Mompremier's grin turns serious, and he asks permission to test the feverish person for malaria.
Mompremier is part of a new army of health workers on the island of Hispaniola who are working to eliminate malaria from Haiti and the Dominican Republic, the only place in the Caribbean where the disease still exists. A oneyear pilot project of The Carter Center in three towns brought health officials from the two countries together to collaborate on the best ways to rid the island of malaria and lymphatic filariasis, another parasitic disease spread by mosquitoes.
At one home in Ouanaminthe, family members borrow a chair from a neighbor and invite Mompremier to sit as a feverish and frightened young boy around age 6 is brought to him. Balancing his malaria kit and clipboard on his knees, Mompremier pricks the boy's finger, smearing the blood on a glass slide. He tells the child's father he will come back as soon as possible with the results from the test and free treatment if the child has malaria.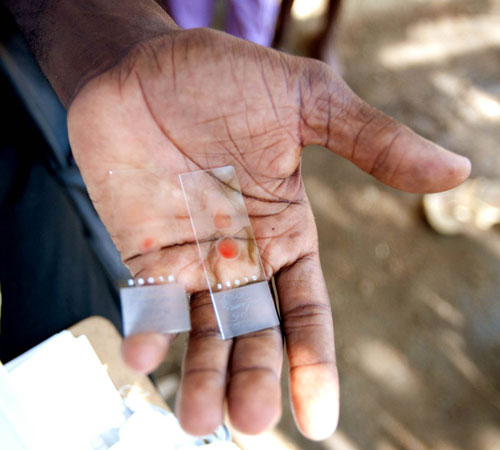 Once a finger is pricked, a health agent carefully smears the blood onto a clean glass slide and writes information on the slide to identify the sample. The slides will be brought back to the local hospital lab at Centro Medico-Social to be read under a microscope. If the patient has malaria, he or she will receive free treatment through a Carter Center-supported binational project.
A year ago, no one like Mompremier was conducting active malaria surveillance in Ouanaminthe. Today, health workers are a regular sight, part of a national malaria surveillance initiative in Haiti.
The one-year project stems from a 2006 recommendation of the Carter Center's International Task Force for Disease Eradication, which determined that it was technically feasible to eliminate the diseases from the island. The Carter Center assists with malaria prevention activities in the two bordering communities of Dajabón in the Dominican Republic and Ouanaminthe. Lymphatic filariasis interventions are conducted in a third town, Trou-du-Nord, Haiti.
The coordination between the two neighboring countries, which have a long history of tense relations, is seen as a crucial element of any effort to eliminate the two diseases on the island. After all, the mosquitoes carrying the diseases do not turn around at the border.
Although the pilot project has resulted in new equipment and trained staff, significant challenges remain for Haiti and the Dominican Republic, who jointly set a target date for elimination of both diseases by 2020. To reach their goal, approximately $240 million will be needed, making the support of the international community imperative.
Mompremier, however, is optimistic. "It seems to me that we've helped reduce the cases of malaria, and the deaths caused by it," he says. "Step by step, I know we can devastate malaria."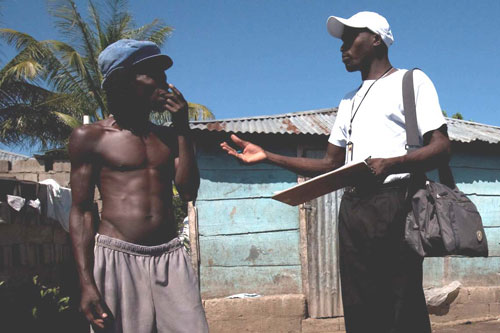 Jonel Mompremier, 27, hunts for cases of malaria in his home community of Ouanaminthe, Haiti. At every home he visits, he asks the same question, "Does anyone here have a fever?" Mompremier is one of a new breed of health workers handpicked to conduct malaria surveillance in Haiti, a lost skill regained through a Carter Center-supported, one-year pilot project to facilitate binational work against malaria and lymphatic filariasis in Hispaniola.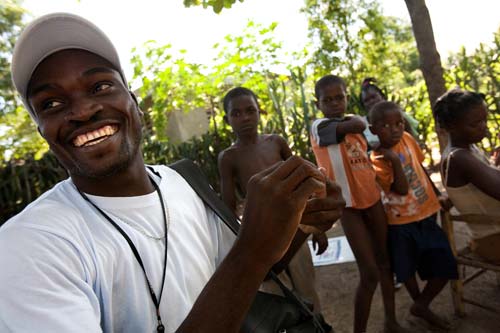 "A health agent must love his job to do it well, and I want to devastate malaria," Mompremier says. He often puts in long hours and sometimes weekends to search for fever cases and bring back test results to anxious patients.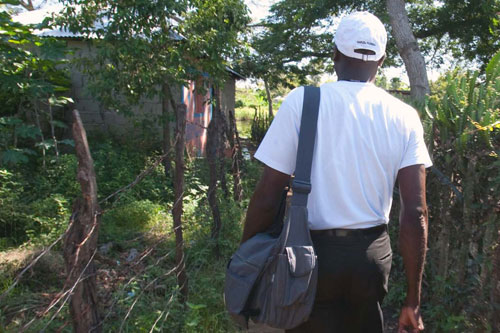 One house down and many more to go, Mompremier hits the road again after hearing from the household he visited of another fever case nearby. Despite the challenges faced by his community and his country, Mompremier is optimistic about the future of malaria elimination, believing cases have been going down since he began his work with the project a year ago. "Step by step, I know we can devastate malaria," he says.
Learn more about the Center's work in Haiti >
Read the New York Times Feature: Haiti and Dominican Republic Urged to Fight Mosquito Illnesses Together >