Brother and sister Juan Tavares Rodriguez and Casilda Trejada Abreu live with their family in a pine board home in La Bomba, Dominican Republic. A stone's throw away lies the Massacre River - a natural border between the nation's only neighbor Haiti - where stagnant ponds at the river's edge create breeding sites for mosquitoes that carry malaria. But the family understands the threat of malaria, and have done all they can to prevent it.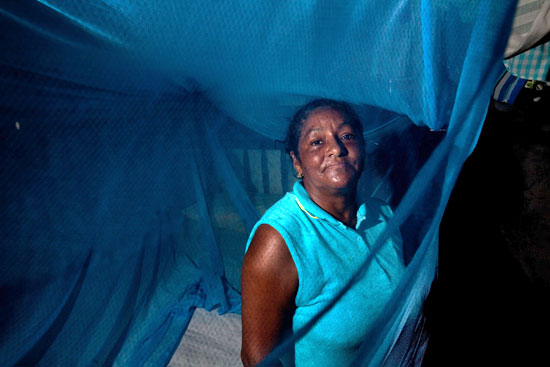 All Photos: Carter Center/P.DiCampo
Casilda Tejada Abreu sits under the insecticide-treated mosquito net (donated by The Carter Center) that covers her bed at her home in La Bomba, Dominican Republic. Because they live near a river that creates breeding sites for mosquitoes carrying malaria, Casilda and her family are particularly susceptible to the debilitating disease.
When asked who in the family has had malaria, Casilda answers, "until now, thank God, no one." While Casilda believes that only God can stop malaria from spreading, she also has implemented the most basic and important methods for prevention: everyone in the family sleeps under a bed net, and she covers standing water in and around the house.
"Mosquitoes are everywhere," she says. "And people should be careful."
To Casilda, the presence of malaria is directly linked to her village's poverty. Until recently, many in the community had limited access to medication or bed nets.
However, in September 2008, The Carter Center, in partnership with the Dominican Republic and Haiti, launched a historic one-year initiative to help the two countries and their other partners accelerate the elimination of two mosquito-borne infections-malaria and lymphatic filariasis-from Hispaniola, the last reservoir of these devastating diseases in the Caribbean. As long as malaria and lymphatic filariasis (which is mostly endemic in Haiti) exist on any part of these two nations' shared island, they will threaten the rest of the Caribbean with tragic human and economic consequences. For example, the Dominican Republic lost approximately US $200 million in tourism revenue due to an outbreak of malaria in 2004.
Though Casilda and Juan have meager work in the local market-selling goods like pasta and rice from a nearby store-acquiring even the most basic necessities can be difficult, Casilda says, and it's a problem intensified by malaria.
"There is nothing here," she says. "And when somebody gets malaria, it's harder to get food because they are suffering."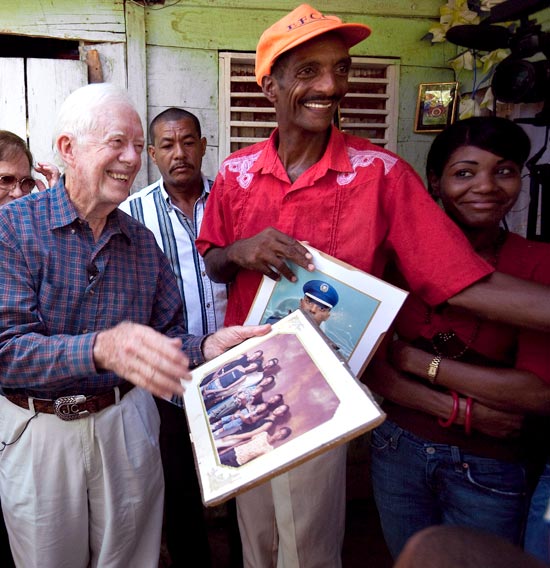 Juan Tavares Rodriguez, center, shows family photos to former U.S. President Jimmy Carter outside of Juan's family home in La Bomba, Dominican Republic. La Bomba lies near the border of Haiti, and health workers on both sides of the border are actively involved in malaria surveillance under a Carter Center-supported project to spur the elimination of malaria and lymphatic filariasis from the island of Hispaniola. President Carter visited the Dominican Republic and Haiti in October 2009 to urge the international community to support the two nations' efforts to complete elimination of both diseases.
Since the binational project was established, new ground has been broken in collaboration between these two countries for the betterment of public health on the entire island. (Read the 2008 Carter Center Press Release: Carter Center Launches Effort to Spur Elimination of Malaria and Lymphatic Filariasis in Haiti and the Dominican Republic.) The two countries have developed a standard protocol and procedures, including free diagnosis and treatment of malaria; primaquine has been added as a tool for treatment of malaria in Haiti (the Dominican Republic was already using the medicine); and surveillance and use of microscopy to confirm diagnosis of malaria has been intensified.
With support from The Carter Center, the Dominican Republic and Haiti also prepared a binational plan to complete elimination of malaria from the island, and Haiti developed its plan to eliminate lymphatic filariasis. Casilda and Juan are doing their part to help wipe out malaria from their community, but they can't do it alone. The Carter Center will continue to monitor the situation on the island and urge the international community to help both Haiti and the Dominican Republic finish the job.
Learn More
Malaria, a potentially fatal parasitic infection that causes fevers and flu-like symptoms, is concentrated in 14 of 155 municipios (counties), in the Dominican Republic, which reported 2,711 cases and 14 deaths from malaria in 2007.
View flier:"How To Use a Mosquito Net" (Spanish/PDF) >
The initiative stemmed from a 2006 recommendation of the Carter Center's International Task Force for Disease Eradication (ITFDE)—a group of 12 global experts on infectious disease—that it is "technically feasible, medically desirable, and would be economically beneficial," to eliminate these two parasitic diseases from Hispaniola. Read the updated ITFDE recommendation from 2008 (PDF).