Aug. 31, 2004
Sitting on a white plastic chair, Hamisu Isa, 35, listens to members of his lymphatic filariasis support group describe their symptoms, challenges, successes, and hopes. For years, he has suffered from the disease's severest form, elephantiasis – a disfiguring condition that causes grotesque swelling of the legs and genitals. But today, Hamisu's life has turned around. He recently earned a teaching certificate, is teaching mathematics and English at a local elementary school a few times a week, and is working in the market part-time.

Hamisu's new lease on life is due, in part, to the support group he attends in Jos, Nigeria -- among the first of its kind. Led by Carter Center expert Dr. John Umaru, people suffering from lymphatic filariasis come together to discuss their physical obstacles and social stigma of the disease. Here, participants learn about transmission and prevention of lymphatic filariasis and discuss techniques for preventing skin infections, such as proper leg washing. The forum is equally important for providing a place for people like Hamisu to discuss how to overcome seemingly insignificant everyday challenges, such as finding properly fitting shoes.
Shunned

During the first few meetings of the Carter Center-assisted support group, Hamisu sat quietly on his chair and listened to other members talk about their lives and the impact of lymphatic filariasis: a disease that ripples beyond the individual, forcing victims to rely on the support of loved ones as effects often make it difficult and sometimes impossible for them to farm and carry out other basic daily tasks of living.

After he had been in the group for awhile, Hamisu began to share his own experiences with his peers. He said that people-including his own family-would shun him because the infection in his leg created a bad odor. By taking proper care of his leg, he was able to stop the sores, and the swelling decreased. In the past, the disease-related fevers kept him from holding a job or completing seemingly simple tasks.

Although Hamisu's leg and foot are still enlarged and it is sometimes difficult for him to get around, he finds joy in little things that make his life easier. Today, he shows off a custom made shoe. Typical flip-flops would not fit over his swollen foot, so a friend melted the strap off another shoe and attached it to a strap on Hamisu's shoe, creating a larger flip-flop, and as a result, a shoe that fits.

Prevention, management

Caused by the bite of a mosquito, lymphatic filariasis can be prevented and managed through health education and annual single-dose combinations of oral medicines: Mectizan® donated by Merck & Co., Inc., and albendazole.

Since 1998, the Center has been the largest nongovernmental organization assisting the national lymphatic filariasis program in Nigeria. These control efforts stem from conclusions of the Center's International Task Force for Disease Eradication, which named lymphatic filariasis one of only seven infectious diseases with the potential to be eradicated.

"Hamisu's story shows other people that someday they can be better, too," said Dr. Umaru.

And now, Hamisu can serve as an inspiration to new members of the support group.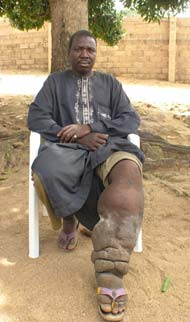 Carter Center Photos
Hamisu Isa listens to members of his lymphatic filariasis support group describe their symptoms, challenges, successes, and hopes.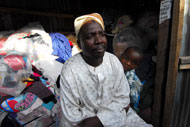 Through his participation in the lymphatic filariasis support group, Hamisu learned how to properly care for his leg which has resulted in his return to a steady job for the first time in years.



Lymphatic Filariasis (Elephantiasis) Program

Watch Video (4:37) >