Oct. 1, 2009
Microscopist Marino Castillo pricks the finger of 5-year-old Silvana Mayor and draws blood onto a glass slide. The girl's shirt is bright yellow, but her face is weary. Her mother says the girl has had a fever for several days, and the mother is worried that she has malaria.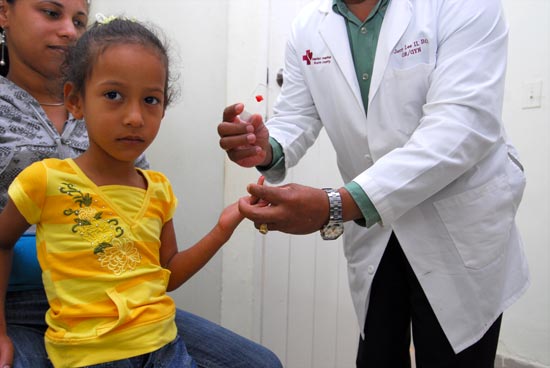 (Carter Center Photos) A blood sample is taken from Silvana Mayor, 5, to determine if the girl has malaria.
Wearing a hand-me-down lab coat, Castillo examines her blood under a microscope. His lab is sparsely furnished, a reflection of its location in the rural province of Dajabón, which shares its western border with Haiti. The only new items in the lab are also the most important - the microscopes.
The modern microscopes were donated by The Carter Center as part of a pilot project to accelerate the elimination of malaria and lymphatic filariasis from Hispaniola, the Caribbean island shared by Haiti and the Dominican Republic. The new microscopes feature enhanced lighting, better lenses, and greater magnification, which allow Castillo and his colleagues to more quickly and efficiently check blood samples of patients for malaria parasites.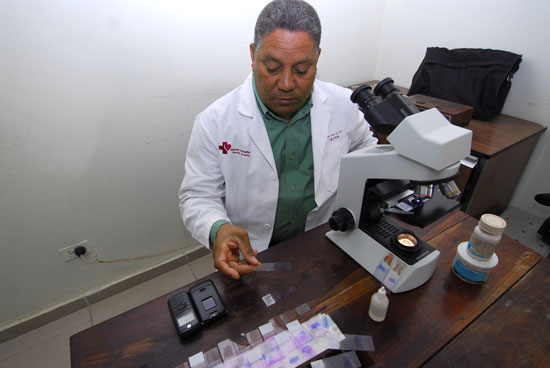 At his lab in Dajabón, Dominican Republic, Marino Castillo screens blood samples for malaria using a powerful new microscope from The Carter Center.
"These microscopes are very large and make it easier to see what you're looking at," explained Castillo as he sat behind his desk. "My eyes are less tired. It makes my job and working conditions much better."
In the three areas of the pilot project, the Center also has provided insecticide-treated bed nets to protect community members, motorbikes for health workers, and additional funding for antimalarial drugs, supplementary health staff, and technical expertise. These supplies are being used to assist the governments of both countries in fighting malaria, a disease that kills between 1 and 3 million people a year worldwide and hinders economic development in affected communities. The goal of the project is to show that a coordinated effort between the two countries is necessary to ultimately achieve elimination of the disease from the island.
After checking Silvana Mayor's sample, Castillo is able to relieve an anxious mother of her worries - the 5-year-old patient does not have malaria.
With malaria already gone from the rest of the Caribbean islands, The Carter Center hopes that this pilot project will speed up elimination of the disease on Hispaniola. Until then, improved technology such as the new microscopes and increased funding for staff and supplies will keep more of the island's children and families healthy and provide a model for collaboration between Haiti and the Dominican Republic.