by Rebecca Palpant
Rebecca Palpant is the senior program associate for the Rosalynn Carter Fellowships for Mental Health Journalism of the Carter Center's Mental Health Program.
This week six U.S. and four international journalists will be chosen to participate in a yearlong fellowship to explore one of the most prevalent public health issues that is still shrouded in myth and mystery - mental illness.
The newest class of Rosalynn Carter Fellows for Mental Health Journalism will have been selected in a highly competitive process that includes on average more than 100 applicants per year. They will join a cadre of 108 of their peers who, since 1996, have used the skills they learned during their fellowship to more accurately and sensitively explore mental health topics - exposing human rights abuses, uncovering major public health issues, and bringing national and international attention to the needs of people often forgotten or discriminated against by society.
Mental illnesses affect everyone. One in four Americans will experience a mental illness this year - the face of mental illness can be an admired entertainer, the CEO of a company, a family member, or a dear friend. And although most people with mental illnesses work hard, take care of their children, and lead productive lives, a very different picture of mental illness often is portrayed in the media.
For example, more than 40 percent of newspaper stories in a major study inappropriately linked acts of violence to mental illness even though people with mental illnesses are much more likely to be victims of violence than perpetrators.
The consequences of these stereotypes and misperceptions can be devastating - nearly two-thirds of people with mental illnesses don't seek treatment that could help ease their symptoms. In many cases, this is due to fear that they will experience stigma or be discriminated against because of their condition. Every year, mental illnesses such as depression, anxiety, and substance abuse cost employers $44 billion in lost productivity and 217 million missed workdays.
Since 1991, the Carter Center Mental Health Program - founded by former First Lady Rosalynn Carter - has worked to fight stigma and discrimination as well as to improve access to quality mental health care.
The Center's primary anti-stigma initiative, the Rosalynn Carter Fellowships for Mental Health Journalism, supports a wide range of journalists in the U.S., South Africa, and Romania by providing them with Carter Center resources and experts to help them cover mental health issues more accurately. Fellows spend the rest of the fellowship period working on projects in their own newsrooms, frequently becoming a resource on mental health issues for colleagues.
Fellows have published more than 100 newspaper and magazine articles, produced hundreds of minutes of radio and television pieces, books and television documentaries. Their work has garnered a range of awards as well as nominations for the Pulitzer Prize.
The Carter Center will welcome the new class of Rosalynn Carter Fellows through an announcement on the Carter Center's website July 9. These journalists play an important role in shaping public understanding about mental health issues, and together, we can raise awareness about the real face of mental illness.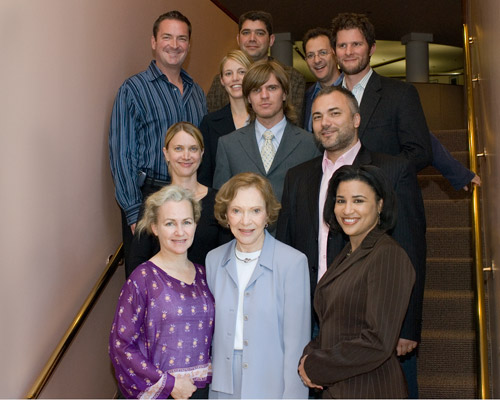 Photo credit: Carter Center
Rosalynn Carter (bottom row, center) leads The Carter Center's mental health efforts.