by Rebecca Palpant
"At The Carter Center we have been working for more than a decade to develop a cadre of journalists who can have a significant impact on the public's understanding of mental illnesses. I know that they are making important contributions in lifting some of the stigma."
Former First Lady Rosalynn Carter,
Within Our Reach: Ending the Mental Health Crisis" (Rodale Books, 2010)
Shrouded in myth and mystery, mental illnesses are among the most serious, unrecognized, and underreported health problems in the United States—affecting one in four Americans in a given year. In today's information age, there are more opportunities than ever for media outlets and journalists to shape public understanding and attitudes toward mental health, for public good or ill.
For example, a story of a mother suffering from postpartum depression could sensationalize the woman's symptoms and provide little information about her life outside of her illness—perpetuating stigma and discrimination against those with the disorder. The very same story, however, with accurate, sensitive reporting could discuss her recovery through appropriate treatment and encourage other women suffering from the disorder to seek care—especially if the mother's successful small business and service to her community are included in the piece.
Seeking to fill the gap in quality mental health reporting, the Carter Center's Rosalynn Carter Fellowships for Mental Health Journalism have helped more than 100 print and electronic journalists to more accurately cover mental health information in their newspapers, magazines, radio and television programs, and books. And they're encouraging their peers to do the same.
Part of a larger Carter Center effort to reduce stigma and discrimination against those with mental illnesses, the fellowships provide six stipends to U.S. resident journalists to explore a topic related to mental health or mental illnesses over the course of one year.
The program also has expanded internationally, currently providing two fellowships each for South African and Romanian journalists. Unlike other journalism fellowships, Rosalynn Carter fellows remain in their newsroom throughout the fellowship year, learning to integrate newfound resources and skills in their everyday environment.
Through their reporting, the Center's fellows have helped expose patient abuse in a state psychiatric hospital, resulting in its closure; brought international attention to the tragic toll sexual violence has taken on women of the Democratic Republic of the Congo; and explored the complex and devastating mental health challenges faced by returning Iraq and Afghanistan veterans.
Fellows' projects have garnered an Emmy Award and awards from Mental Health America, the American Psychological Association, Amnesty International, and the Association of Health Care Journalists, as well as nominations for the Pulitzer Prize.
But despite these achievements, we know there is still so much more progress to be made. During an international meeting of stigma researchers held at the Center in June 2009, experts agreed that public misperceptions of the connection between mental illness and violence remain an enduring obstacle to reducing stigma. The face of mental illness needs to be changed to a more accurate representation of a person who lives successfully in the community. The experts also agreed that media and journalists could play a crucial role in reporting on "recovery success stories."
We know the findings of the international community reflect what's happening here in the US. A recently published state-specific survey—the first of its kind—found that most Americans (89 percent) believe that treatments for mental illnesses can help, but only about half of Americans surveyed believe other people are caring toward those who have mental illnesses.
Together, The Carter Center, our fellows, stakeholders, and others in the mental health community are working to ensure that stories about the rarest and worst faces of mental health are not the norm in the media. Through their books, television documentaries, more than 100 newspaper and magazine articles, and hundreds of minutes of radio and television pieces, fellows are bringing the real face of mental illness and the real potential for recovery into the limelight.
Rebecca Palpant is the senior program associate for the Rosalynn Carter Fellowships for Mental Health Journalism of the Carter Center's Mental Health Program. For more information on the fellowship program and the Carter Center's other work advancing peace and health, please visit www.cartercenter.org
The preceding article was reprinted with permission from The Substance Abuse and Mental Health Services Administration's Resource Center to Promote Acceptance, Dignity and Social Inclusion Associated with Mental Health, http://www.promoteacceptance.samhsa.gov.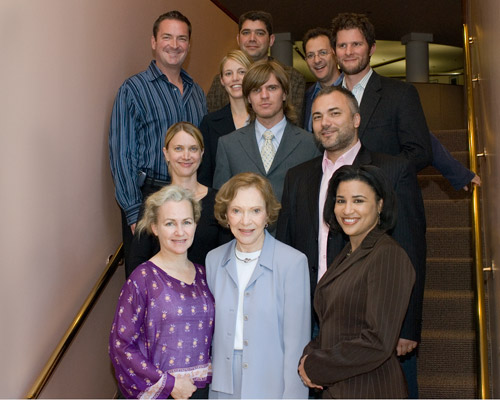 Photo credit: Carter Center
As part of the Carter Center Mental Health Program's international effort to reduce stigma and discrimination, the Rosalynn Carter Fellowships for Mental Health Journalism provide stipends to journalists from the United States, Romania, and South Africa to report on topics related to mental health or mental illnesses.