Jan. 28, 2009
Every painting by Atlanta artist Jerome Lawrence is like a window into his heart and open door into his mind, and with good reason. For Lawrence, art is not just a profession he's spent a lifetime studying and now masters, it also is a vital therapeutic tool he harnesses to battle schizophrenia. A few years ago, Lawrence would never have imagined his art would hang in the collections of influential Georgians like former U.S. President Jimmy Carter and his wife, Rosalynn; the Rt. Rev. John Neil Alexander of the Episcopal Diocese of Atlanta; and Atlanta anchorwoman Brenda Wood. Yet, today, Lawrence's paintings are in high demand and provide him a self-sufficient income.
"We all are so inspired by Jerome's talent and his life story," said Dr. Thomas Bornemann, director of the Carter Center's Mental Health Program. "At The Carter Center, we work to raise awareness among the public that recovery is possible for people with even the most serious mental illnesses. Jerome's experience is powerful testimony to this fact."
As is common for many people with schizophrenia, Lawrence was diagnosed with the disease in his early 20s when he was a college senior studying art in Atlanta. Lawrence spent several years in the mental health care system, where his diagnosis was deemed disabling. He relied on government entitlements to make ends meet. Over time, Lawrence and his doctor identified a treatment regime that helped him to recover. He started a part-time job in mental health advocacy at the Georgia Mental Health Consumer Network and also opened a small business creating and selling original paintings and prints.
"I first became involved with The Carter Center by attending the symposiums," Lawrence says, referring to the Rosalynn Carter Symposium on Mental Health Policy. The annual symposia, started by Mrs. Carter in 1985, are key events in the national mental health community, bringing together leaders in to focus and coordinate their efforts on an issue of common concern.
"That's when I realized how deeply Mrs. Carter was involved in mental health issues and how dedicated she was to the eradication of stigma," he said.
During the next few years, as he grew more familiar with the Mental Health Program, Lawrence became even more interested in the Carter Center's efforts to convene expert discussion on mental health.
"Bringing together top-notch experts to talk about solutions to the problems we face is a wonderful thing," Lawrence said. "It's important to have people discuss what works with the rest of the community and that's what the symposium does."
In 2008, Lawrence created a painting of bright red tulips, inspired by The Carter Center grounds that would later be featured on the Center's holiday card. Titled "Tulips are People II," Lawrence says the painting illustrates his view that tulips, in their many shapes and hues, represent people from around the world and the beauty occurring when we all work together.
"Our differences are not so great that we can't sit under the same umbrella and get something done," Lawrence said. "By doing the tulip piece, I wanted to express the feelings I felt for The Carter Center, where the Mental Health Program has helped me as an individual and encouraged me with my painting and writing."
Although he feels most at home behind the easel, Lawrence continues to share his experiences with others to help shed light on what it is like to live with a mental illness. He has been featured in several news stories and his art's popularity is increasing - demonstrating that even those with the most serious mental illnesses can hope for a healthier future.
Jerome Lawrence lives in Atlanta and is happily married. Learn more about Jerome Lawrence and his work.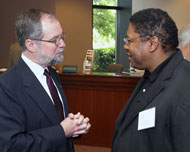 Carter Center Photo
Jerome Lawrence (right), Atlanta artist, talks with Dr. Thom Bornemann (left), director of the Carter Center's Mental Health Program. Lawrence, who has struggled with mental illness, has donated a painting to the Carter Center's annual Winter Weekend celebration, Feb. 7, 2009.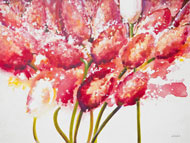 Carter Center Photo
Jerome Lawrence created this painting of cheerful, bursting red tulips dappled with white. Jerome describes the work as reflecting that "love comes out of nowhere." Lawrence, who has struggled with mental illness, has been a presenter with Rosalynn Carter in the Carter Center's Mental Health Program.