Nov. 1, 2008
In a refugee camp in the Democratic Republic of the Congo, journalist Jimmie Briggs listens via translator to a young woman describe being raped by soldiers. Briggs, an unlikely confidant as both a man and an American, is so devastated by her account he cannot continue taking notes. He begins to weep and offers to end the interview. The woman, "Madeline," refuses.
"I'm never going to have justice legally," she says, while cradling a child in her arms, a child conceived while she was assaulted. "I have to tell this story so other women can be protected — so the world knows what is happening to us here," Madeline adds.
Sexual assault in the Congo is acknowledged as the worst in the world — the brutality, the amount, and the cultural allowance of it.
Freelance writer Jimmie Briggs has dedicated his career to reporting on the psychosocial impact of violence against women and children — a mission Briggs funds through grants and other financial assistance. In 2005, he wrote a book about child soldiers.
The recipient of a Rosalynn Carter Fellowship for Mental Health Journalism in 2006, Briggs is working on his next book, tentatively titled "The Wars Women Fight: Dispatches from a Father to a Daughter," a project he said would not have been feasible without the fellowship. "The Carter Center made it possible for me to go to the Congo, and the Center's reputation and broad network of support gave me access to people I would never have been able to talk to otherwise," he said.
Since its inception in 1997, the fellowship program has provided funding and training to more than 90 journalists around the world, enabling them to investigate and write stories combating stigma and discrimination against mental illnesses.
Briggs observed that the rape survivors he spoke to in the Congo did not recognize the sadness and fatigue they felt as signs of depression or an aftereffect of trauma.
"Many of the women had all but given up hope that their lives could improve, but they knew that I was there to share their stories and try to help make a difference," he said.
Today, Briggs maintains a close relationship with the Center's Mental Health Program staff, whom he credits as a valuable source of informal guidance and support: "I am extremely grateful and blessed to have been a Carter Center fellow, and I feel that, in many ways, I always will be a fellow."

View a list of 2008–2009 fellows and the topics they are covering.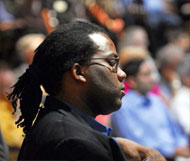 All photos: The Carter Center
Freelance journalist Jimmie Briggs, past recipient of a Rosalynn Carter Fellowship for Mental Health Journalism, chronicles women and children facing violence.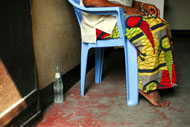 Many women in the Democratic Republic of the Congo are reluctant to tell their stories of sexual assault because of trauma in recounting their experience and fear of repercussions for them and their families.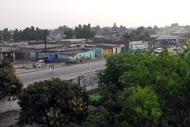 Despite the calm facade of this street, Congolese women face brutal violence, particularly in the eastern region of the country.