Although the words "reduce stigma" do not appear in the name of any initiatives of the Mental Health Program Thom Bornemann directs, the concept is embodied in virtually everything the program does.
"Mental disorders are among the most prevalent of all health conditions," said Dr. Bornemann. "We have effective treatments available, but the vast majority of people who need treatments do not get them, in part because our system distinguishes between physical and mental illnesses. That we separate the brain from the rest of the organism is folly, and yet we've organized our health care system that way."
Reducing the stigma against mental illnesses in many ways, including increased access to care, is a cause Dr. Bornemann has pursued throughout his career-from early work in a psychiatric emergency clinic in San Francisco to developing a national mental health program for refugees. Acutely interested in finding ways to apply research to clinical practice and integrate mental health into the larger public health policy arena, Dr. Bornemann found joining the Center in 2002 a natural evolution for him.
"Our field, not unlike other fields, includes competing interests," said Dr. Bornemann. "A policy-maker may be most interested in the efficiency and effectiveness of programs, whereas a consumer of mental health services may be interested in housing, a decent wage, and the opportunity to rejoin his or her community. The Carter Center's program is recognized as an honest, fair-minded broker, working well with a host of constituents to promote resolution and action."
The program brings government policy-makers, academics, advocates, and consumers together through the annual Rosalynn Carter Symposium on Mental Health Policy, now in its 20th year. "We offer a rare opportunity for leadership from all sectors of the community to come together on an issue of national concern, such as the need to transform mental health care for families and children," said Bornemann. "In recent years, we've conducted follow-up studies to identify actions symposium participants have taken to make concrete progress. We try to go beyond professional meetings where people network and then resume business as usual, because we're in a field where business as usual is not acceptable."
Dr. Bornemann and his staff also work with Georgia mental health organizations to produce a yearly state-level forum, which will focus in May 2005 on Georgia's move to managed care in the taxpayer- funded Medicaid program. An even broader avenue for making gains is the fellowship program for mental health journalism. "The anti-stigma message was really the impetus for the program, which encourages journalists to report more accurately about mental illnesses, reducing stereotypical information and developing a better-informed media and public," Dr. Bornemann said. Results have been tangible. For example, one fellow produced a series of articles on the Oregon mental health system that led to legislative action.
"There's not a country on this planet that doesn't have tremendous difficulties with stigma, often leading to profound forms of discrimination against people and families of people with mental disorders," said Dr. Bornemann. "If we at The Carter Center can help the mental health community in this country become more effective and are able to communicate that success to our colleagues around the world and learn from them as well, we can help people get back on their feet to rejoin the work force, start leading more enriched lives, and have relationships again in communities and with their families."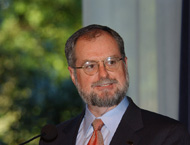 Photo credit: Carter Center/ A.  Poyo
Dr. Thom Bornemann, who joined the Center in 2002, said the Center's success in bringing together the mental health community can help those with mental disorders rejoin their families and jobs.
Learn more about the Carter Center's Mental Health Program >
"Since Mrs. Carter began
her work in mental health, we
have moved from a focus on
lessening symptoms to a
concept of recovery. Her impact
in this field has been deep
and constant."

—Thom Bornemann