Dec. 9, 2008
By Andrea M. Kane
CNN
ATLANTA, Georgia (CNN) -- As mental health advocates, policy makers, practitioners, educators and researchers gathered at the Carter Center to discuss the progress in addressing American children's mental health needs, a drama of sorts was reaching its conclusion halfway across the country.
The governor of Nebraska signed a bill Friday to change a controversial safe-haven law by restricting the age at which a child could be dropped off at a hospital without parents being prosecuted.
Since the law took effect in September, 35 children -- all but six of them older than 10 -- have been dropped off at Nebraska hospitals. Read the complete article on CNN.com >>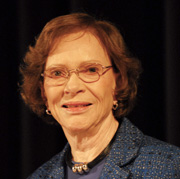 Carter Center Photo
Former First Lady Mrs. Rosalynn Carter, co-founder of The Carter Center, initiated the annual Rosalynn Carter Symposium on Mental Health Policy in 1985 to bring together national leaders in mental health to focus and coordinate their efforts on an issue of common concern. This year's symposium, held at The Carter Center in Atlanta on Nov.20-21, discussed the findings of Unclaimed Children Revisited, a study on the disarray of the children's mental health care system.