"My mother believed you got trachoma from crying," said Neter Nadew, a 36-year-old Ethiopian mother of four who suffers as her mother did from trachoma, a bacterial eye disease that can lead to blindness. Nadew's mother was forced to pluck out her eyelashes to prevent the onset of blindness in the later stages of the disease. Today, thanks to the Carter Center's Trachoma Control Program, Nadew knows face washing and good environmental sanitation prevent trachoma.
The leading cause of preventable blindness in the world, trachoma is found in communities with limited access to medical care, health education, and environmental sanitation. Because of their traditional role as caregivers, women are particularly vulnerable to this painful disease. Through their continual close contact" with young children, who form the primary pool of infection, mothers are exposed to the repeated infection that can lead to severe trachoma and blindness. Three out of four people blinded by trachoma in Ethiopia are women.
Transmission of the disease occurs when bacteria move from the eyes of children to the eyes of an uninfected person via the feet of eye-seeking flies, mothers' shawls, bed sheets, towels, or simply touching hands to eyes. Recurring infections lead to the inward turning of eyelashes that causes corneal abrasion and eventual blindness.
The Carter Center follows the fourpronged approach to controlling trachoma endorsed by the World Health Organization. Called the SAFE strategy, the method involves surgery, antibiotic therapy, facial cleanliness, and environmental improvement. The Center supports surgery and antibiotic treatment but emphasizes facial cleanliness and environmental improvement in its program because improved hygiene practices are most likely to lead to sustained trachoma prevention. And education about good hygiene is the best way to stretch limited resources to reach the most people.
One example of how the Center's focus on good hygiene has improved the lives of people in trachoma-endemic villages is the rapid expansion of latrine construction in Africa. With overwhelming support from village leaders and low building costs, communities in Ethiopia, Nigeria, Mali, and Niger have surpassed latrine construction goals. Safe disposal of human feces limits breeding opportunities for the species of fly that transmits trachoma.
With its emphasis on preventing trachoma through education, the Carter Center Trachoma Control Program is making a difference for a new generation—a generation that can look forward to a lifetime of sight.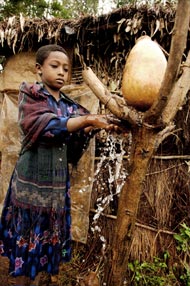 Photo credit: Carter Center/V. Vick
An Ethiopian girl washes her hands. Hand and face washing are part of the strategy for preventing trachoma in Africa.
Learn more about the Carter Center's Trachoma Control Program >