Jan. 26, 2010
Three years ago, Yalanbu Zenabu of Botingli, northern Ghana, was consumed by the daily suffering of trachoma. As a victim of trichiasis, the blinding form of trachoma, her disease had progressed to the stage where her eyelashes scratched against her eye, causing intense pain and debilitation.
"I couldn't do anything," said Yalanbu. "My children had to take care of everything for the household. I could only sit in pain."
The Carter Center and the Ghana Health Service began trachoma control interventions in her village in 2005. The Ghana Health Service provided surgery to trichiasis sufferers such as Yalanbu to relieve the pain of the condition and prevent blindness. To supplement surgical interventions, The Carter Center worked with community members to build latrines for each household to reduce transmission of trachoma infection.
In Botingli, Carter Center trachoma technical advisor Yussif Yakubu recently visited Yalanbu. He found her cooking on the grounds outside her family's household. Her condition is much improved; she no longer has any pain and can perform daily chores without assistance. She proudly showed off her family's latrine, one of more than 7,500 built in Ghana over a seven-year period by the Ghana Health Service and The Carter Center.
Recently, Ghana became the first sub-Saharan African nation to eliminate blinding trachoma as a public health problem through the implementation of the SAFE strategy – Surgery, Antibiotics, Facial cleanliness, and Environmental hygiene.
Yalanbu, and others like her throughout Ghana, can now see a new future-one without pain-for herself and her children, thanks to the Center's Trachoma Control Program's efforts.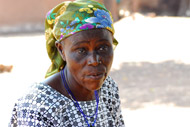 Photo credit: Carter Center
Yalanbu Zenabu
Learn more about the Carter Center's Trachoma Control Program >