Due to an extremely high level of advanced-stage trachoma (trichiasis) in Ayod County, Sudan, an eye clinic in Ayod town was set up to help the county health department further the trachoma control activities of Jonglei state's ministry of health. The clinic building was donated by the Economic Housing Group, and construction support was provided from Terrain Services Limited. In late 2007, local nurses were trained to perform trichiasis surgery, supervised by Sidney Katala, an internationally known trichiasis surgeon. One patient, Nyakier Mabor Gai, spoke to Carter Center staff about her life before and after trichiasis surgery.
"My name, Nyakier, means 'one who was born while crossing the River Nile.' I was born far from home in Unity state when my mother traveled across the River Nile seeking care because she suffered from trichiasis. I don't know my exact age, though my mother believes I am 8 years old. She is the first of my father's four wives and supports me and my seven siblings by farming. My father has a small business in another town and I do not see him often."
"A few years ago, my eyes started hurting me; they were tearing and sensitive to smoke and light. My eyelashes started touching my eyes about six months ago. I wasn't able to open my eyes in the sunlight, so I would sit in the shade with the elderly while my friends went out to play. The most I could do was pound and grind cereals for my mother because I was nearly blind. None of my friends or family knew what to do about my eye pain. My mother prayed that I could receive medical attention, and I could only cry thinking of my grim future."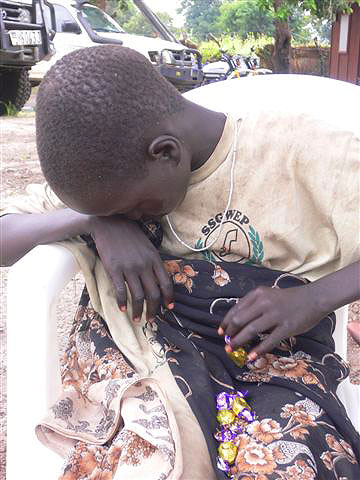 At age 8, Nyakier Mabor Gai was nearly blind and faced agonizing pain in her eyes due to trichiasis. (All photos: U. Schwartz)
"In June 2007, my mother heard about an eye clinic opening in Ayod County. She saved money to be able to send me to stay with my Aunt Nyaturuk, who lives next to the Carter Center camp. When I heard the clinic was open, I was one of the first people to wait for surgery there. I was not afraid of the surgery; I could not imagine suffering another day in misery. Just a few days later, I was able to open my eyes without pain and see clearly again. It was a miracle!"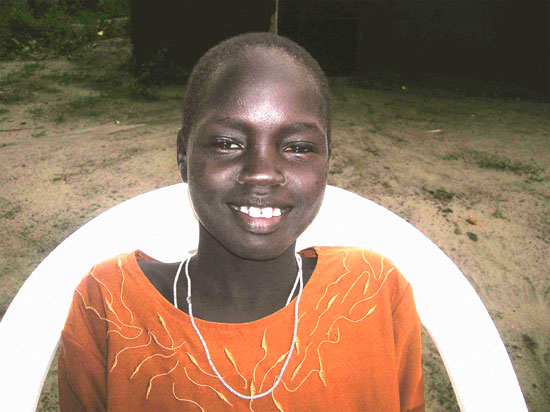 After surgery, she's optimistic about attending school and having a successful future.
"Since my surgery, I have been telling everyone I see suffering with trichiasis that they should go to the clinic and be helped. I want to acknowledge the effort made by the surgeons and The Carter Center to help with the trichiasis surgery clinic. Now that I can see, I told my family that I want to go to school and become a successful person. My mother wants to build a better home for us next to town so I and my siblings can attend school. I want to be an example to others who are suffering from trachoma, to show them that they can be treated and live a successful life."