Aug. 31, 2004
Yengussie Tebeje, 55, sits outside her hut next to a small fire in the rural Ethiopian village of Mosebo. As flies dart around and land on her worn face, she describes her struggle against trachoma, a debilitating eye disease.
Like many people in her village, Tebeje endured years of repeated eye infections, due to bacteria transmitted by eye-seeking flies.
Scarring from multiple infections caused her eyelashes to turn inward, which was extremely painful. For a period of time, Tebeje used homemade tweezers every two weeks to remove five or six inturned lashes. This was the only way she could see well enough to do her housework and go to the local market. But after a while, the tweezing was no longer effective, and Tebeje's vision deteriorated so much that she could no longer perform daily chores like sweeping floors and cooking meals.
But Tebeje had reason to hope. She learned about an operation that would improve her vision. The surgery on her eyelids was provided locally at no charge to Tebeje, thanks to a program by The Carter Center. Afterward, her vision improved, allowing her to identify people she could not before and to do everyday activities with ease.
Trachoma is the leading cause of preventable blindness worldwide, affecting 6 million people, with another 500 million at risk from the disease. The Carter Center has worked to treat and prevent the disease since 1998.
Although surgery improved life for Tebeje, it is only a temporary fix. Transmission and infection can reoccur when the conditions that support the bacteria persist, such as lack of latrines and inadequate hygiene practices.
In addition, trachoma is often generational, as it is easily transmitted by a mother's unknowing touch to wipe her child's eye. Tebeje's daughter and granddaughter now struggle with the disease. The comprehensive Ethiopian trachoma control program, which is assisted by The Carter Center, offers hope for all generations with immediate relief from trachoma through surgery and antibiotics, and long-term solutions for controlling the disease, such as latrine building and education about face washing.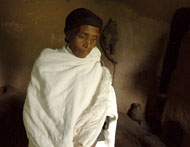 Photo Credit: Carter Center/V.Vick
Yengussie Tebeje has battled trachoma, a debilitating eye disease, for years.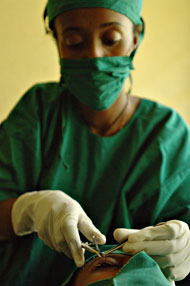 Photo Credit: Carter Center/V.Vick
A surgeon performs eyelid surgery on a patient with trichiasis, or advanced trachoma.