Aug. 31, 2007
Harassed, labeled as traitors, and sometimes jailed for their work, human rights defenders come from backgrounds as diverse as the issues they advocate in their home countries. Many work from an equally diverse platform, one of personal faith. Defenders from 20 countries convened at The Carter Center in September for the fourth annual Human Rights Defenders Policy Forum, co-sponsored by Human Rights First.
Their untold stories are often dramatic — a Muslim woman advocating for women's rights within the framework of Islam, a Catholic priest with leukemia fighting for the civil rights of Haitians from exile in south Florida, or an Israeli labeled as an "Arab-lover" for documenting human rights violations against Palestinians.
For the first time, this year's forum participants considered the role faith communities could play in working with human rights defenders. Under the theme "Faith and Freedom: Protecting Human Rights as Common Cause," attendees discussed challenges they face in addressing mass atrocities and developed recommendations, which they addressed with representatives of governments and multilateral institutions. The event was co-chaired by former U.S. President Jimmy Carter and U.N. High Commissioner for Human Rights Louise Arbour.
"Economic justice, the alleviation of poverty, and prevention of human rights atrocities such as in Darfur are central tenets to both faith communities and the work of human rights defenders," said Karin Ryan, director of the Carter Center's Human Rights Program. "There are more opportunities for collaboration and synergy between the groups beyond Darfur. Human rights defenders play a vital role by alerting the world to escalating crises, preventing crimes against humanity and genocide. We should listen to their views and concerns."
Representative leaders of faith communities attended the forum, including Jimmy Allen, former president of the Southern Baptist Convention; Ingrid Mattson, the first female president of the Islamic Society of North America; and Dr. Marc Ellis, author and professor of Jewish studies at Baylor University. Faith leaders heard the concerns of defenders and pledged to work within their own constituencies to promote human rights.
Several defenders at the forum also came from a platform of faith. They emphasized that faith can play a positive role in the promotion of human rights, despite the common media portrayal of religious extremism.
"I was brought up as a Muslim and brought up to believe that God is just and Islam is just," said Zainah Anwar, executive director of Sisters in Islam, a Malaysian nongovernmental organization. "Rejecting our religion in order to become a feminist is just not a choice—we want to be feminists, and we want to be Muslim as well. We want to locate our search for justice, for liberation within our tradition, within our belief."
President Carter warned against the expansion of religious fundamentalism in his closing remarks.
"When several leaders profess to speak for God and believe they are absolutely right, and others are inferior, that is a root cause of human rights violations," he said. "We must reach out to bring in as our new ally those religious groups that agree with us."
In the concluding session of the forum, defenders presented their recommendations for addressing mass atrocities. These included monitoring media output for incitement and hate speech, promoting an independent and free press, and training journalists in human rights and defenders in media skills.
Read the final statement from the forum identifying challenges and recommendations and
Read the personal stories of human rights defenders.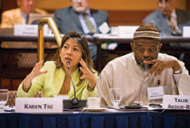 Photo Credit: Carter Center/ T. England
Karen Tse, an international human rights attorney and Unitarian Universalist minister, discusses her experiences at the Human Rights Defenders Policy Forum as Imam Talib 'Abdur-Rashid of the Mosque of Islamic Brotherhood in Harlem, New York, listens.