Aug. 31, 2007
After Iraq's 2006 elections, the United States and other Western governments celebrated that country's move toward democracy. But as Karin Ryan knows from her 20 years with The Carter Center, an election is only a small step on the long road toward a true democratic government.
"The big question is 'what happens after the election?'" said Ryan, who directs the Center's Human Rights Program. "Elections alone do not constitute a democracy. A country needs laws and institutions that protect human, social, and economic rights. It especially needs to protect the rights of the individuals who speak out on these issues."
Such people are called human rights defenders, and Ryan organizes the Center's annual conferences to support them. Ryan's position is ideal for someone who knew even at age 18 that she wanted "to change the world"—and who believed in her own ability to do so. She was then a volunteer English teacher in Zaire through a Baha'i service program. It proved a chastening experience. "I wasn't educated," Ryan said, "and I soon realized that without a degree, I couldn't be very effective."
But she never lost her faith in the power of the individual. In 1987, while studying for a degree in political science at Emory University, she volunteered again—at The Carter Center.
"I visited the museum here," Ryan said. "The exhibits emphasized President Carter's vision of American leadership— how it should be about lending the moral power of our nation to help other countries. That just lit a fire in me."
Ryan brought her energy to the Center just as it launched new human rights initiatives. "It was such a good fit for me," she said. "It's about shifting power to individuals, so that any person can have a platform to speak up about the rights of others. That idea just screamed out to me as a way to fix what's wrong with the world."
Ryan's position as a volunteer office assistant soon turned into a full-time job: "We first helped identify individuals who were wrongly imprisoned around the world. President Carter worked on their cases to free them." In time, this led to the Center's efforts to help countries transitioning to democratic rule, as well as the human rights defenders.
"They are the truth-tellers about what is wrong in a society, and so they are often persecuted," said Ryan. "Protecting them and assuring that their words get out is one of our jobs." The Center assists in this work through conferences, by supporting the U.N. human rights programs, and introducing defenders to U.S. policy-makers.
With the new level of concern about terrorism, the need "to stand shoulder to shoulder with the individual activist" has grown substantially. "It's easier for countries to label activists as terrorists to get them out of the way," Ryan explained, noting that human rights are even in danger in the United States. "We have a strong judiciary, so our courts are pushing back. But what happens in a young democracy, such as Kenya or Iraq? Someone needs to protect the Martin Luther King Jrs. of these societies."


Support the Carter Center's peace and health programs.  Click here to learn how >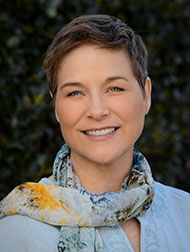 Photo Credit: Carter Center
Karin Ryan, director of the Human Rights Program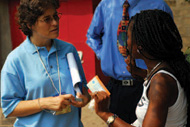 Photo Credit: Carter Center/T. England
Karin Ryan (left) listens to a voter explain the trouble she's had with her registration card during the 2006 elections in the Democratic Republic of the Congo.