November 11-12, 2013

PLEASE NOTE: A previously scheduled live webcast of the forum on Monday, Nov. 11, will not be available. However, we will videotape the day's events and make them available for viewing online as soon as possible after the conference.

Attend in Person (Registration for this event is now closed.)
Please remember to bring a government issued ID and a printout of your confirmed reservation.
Monday, Nov. 11, 2013, 8 a.m.–8:30 p.m.: As the inaugural event of a new project on improving U.S.-China relations, the forum marks the Center's renewed commitment in engaging China, at the invitation of President Xi Jinping and in partnership with U.S. businesses and academic institutions
Tuesday, Nov.12, 2013, 9 a.m.–5:15 p.m.: The forum will continue at the Winship Ballroom at Emory University with public presentations given by key participants.
Visit the U.S.-China Perception Monitor website to view the complete agenda >>

Conference Materials
Visit the U.S.-China Perception Monitor website to view the agenda
and participant list >> (link no longer available) 
Event Overview
The Carter Center, the Halle Institute for Global Learning of Emory University, and the Chinese People's Association for Friendship with Foreign Countries are bringing together renowned American and Chinese leaders and scholars to discuss the current status and the future of the bilateral relationship between the United States and China. Keynote speakers include former U.S. President Jimmy Carter and former National Security Advisor Zbigniew Brzezinski.
The forum will launch a new Carter Center project on U.S.-China relations that seeks to reduce misperceptions in the bilateral relationship held by elites in both countries, promote greater U.S.-China cooperation in the developing world, and nurture a young generation of Americans and Chinese to work together to build a stronger foundation for the world's most important bilateral relationship. These ideas will be shared and discussed with forum participants and help guide the Center's work in China in the coming years.
Other key participants include former U.S. Trade Representative Ambassador Charlene Barshefsky, Director of Tsinghua University's Institute of Modern International Relations Dr. Yan Xuetong, former president of the U.S.-China Business Council Dr. Robert Kapp, and co-host of the popular Sinica Podcast Kaiser Kuo. Many other top-tier academic institutions and influential organizations will be represented at the event. Visit the U.S.-China Perception Monitor website to view the full participant list >>
Background
The Carter Center has worked for more than 16 years to foster mutual understanding between the people of the United States and China.
Multimedia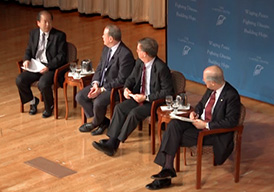 What's Next for China?
Watch Video >>
U.S.-China Relations
Watch Video >>
Directions
Emory University Main Campus >
Emory Interactive Campus Map (search for "Dobbs University Center" > Note: The Winship Ballroom is located inside the Dobbs University Center on Emory's main campus.
Related Resources