Director, Guinea Worm Eradication Program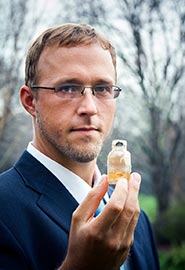 In 2018, Adam Weiss was named director of the Carter Center's Guinea Worm Eradication Program. In this capacity, Weiss works in conjunction with the World Health Organization Collaborating Center for Research, Training, and Eradication of Dracunculiasis at the CDC to provide technical assistance to national eradication programs, and to monitor and disseminate information about the status of the global campaign.
Weiss joined the Carter Center in 2005 as a technical advisor to national Guinea worm eradication programs in Ghana and Ethiopia, and, prior to becoming director, was senior associate director for the program. He also worked as a Peace Corps volunteer in Ghana where he focused on access to safe water, AIDS awareness, community-based health education, and assisted in the effort to eradicate Guinea worm disease.
Weiss graduated cum laude from Ripon College with a bachelor of arts degree in anthropology and politics and government and holds a master of public health degree from the Rollins School of Public Health at Emory University. Weiss received the Charles C. Shepard Award for his thesis on Guinea worm in Ghana.