The Carter Center Health and Peace Programs appreciate the continued support of our foundation, government, and corporate donors and are pleased to highlight their contributions in these regular Web features.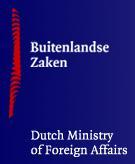 Featured October 2007
The Netherlands Ministry of Foreign Affairs has been a vital partner in the Carter Center's efforts to support the creation of sustainable democracies and promote respect for human rights. The Dutch government has partnered with The Carter Center on numerous occasions, providing more than $4 million for projects in Albania, Liberia, Sudan, Uganda, and Zambia. Most recently, The Netherlands has supported two Carter Center initiatives in the Democratic Republic of the Congo (DRC).
The DRC is the largest country in central Africa and has key strategic and geographical importance for the stability of the region. Six neighboring countries were directly involved in its deadly civil war, during which an estimated four million people perished. Full recovery from this conflict is essential for the well-being of the DRC and surrounding countries. With the conclusion of democratic elections, the government and people of the DRC have the opportunity to begin a transformation to meaningful democracy. Such a transformation is possible if newly elected leaders move forward with promised reforms and the population is sufficiently informed and mobilized to hold the government accountable to its commitments. The Carter Center has developed two projects to address the current opportunity, both made possible through crucial support from The Netherlands.
The goal of The Human Rights House Project is to increase civic participation in ongoing reforms in the areas of governance, human rights, and the fair exploitation of natural resources. The project will provide technical support and training to strengthen and rebuild the country's NGO sector, and facilitate coordination and networking between human rights groups.
The Justice Sector and NGO Capacity-Building in the DRC Project proposes to support the democratic process in the DRC by advancing the protection of human rights in key areas of the justice sector and bolstering efforts of effective civil society groups committed to building a democratic society.
These projects will benefit from more than $800,000 in funding from the Dutch government, which will expand the strong relationship between The Carter Center and The Netherlands to promote democracy and human rights around the world.