Nov. 3-4, 2010
Click here to watch archived video from the 2010 Rosalynn Carter Symposium
On Mental Health Policy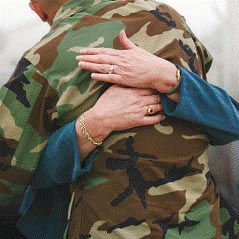 View Wednesday, Nov. 3, 2010 Agenda
View Thursday, Nov. 4, 2010 Agenda
The wars in Iraq and Afghanistan have posed unique psychological challenges to troops as a result of multiple tours of duty and a higher prevalence of brain injury, among other factors. National Guard and reserves make up approximately one-third of all military forces in Iraq and Afghanistan, and are more likely than other military to face multiple deployments. Yet, once their job is finished, guard and reserve service members return to civilian life instead of a military base, and do not have the same access to health care services as their active duty colleagues.
This year's invitation-only symposium will focus on the current mental health services, screening, surveillance, and support available for returning National Guard and reserve Iraq and Afghanistan war veterans and their families--so they can protect and promote a healthy journey home.
Program Agenda
Wednesday, Nov. 3, 2010
Opening Session 1:00 – 6:00 P.M.
Reception and Dinner 6:00 – 9:00 P.M.
* To be webcast live
12:00 – 1:00 p.m.
REGISTRATION/Ivan Allen III Pavilion Lobby
1:00 – 1:05 p.m.
WELCOME*
Thomas Bornemann, Ed.D.
Director, The Carter Center Mental Health Program
1:05 – 1:20 p.m.
Nina Berman*
Freelance Documentary Photographer
1:20 – 1:30 p.m.
OPENING REMARKS*

Rosalynn Carter
Chair, The Carter Center Mental Health Task Force
1:30 – 1:45 p.m.
Congressman Patrick Kennedy, (D - Rhode Island)*
1:45 – 2:15 p.m.
KEYNOTE ADDRESS*
Kathryn Power, M.Ed., Director, Center for Substance Abuse Prevention, SAMHSA
2:15 – 2:30 p.m. BREAK/Transition
2:30 – 3:45 p.m.
Panel I Reintegration into Family*
Moderator: Kelly Kennedy, M.A., Reporter, Military Times/Gannett
Rosalynn Carter Fellow for Mental Health Journalism 2008-2009
Participants:
Ron Capps, Freelance Writer, U.S. Army Reserve Retired
Major Mara Boggs, U.S. Army
Joyce Raezer, Executive Director, National Military Family Association
3:45 – 4:00 p.m.
Q and A*
4:00 – 4:15 p.m.
DISMISS TO POSTER SESSION*
Thomas E. Bryant, M.D., J.D.
President, National Foundation for Mental Health
Member, The Carter Center Mental Health Task Force
4:15 – 5:50 p.m.
POSTER/INFORMATION SESSION – Lower Commons/Rotunda 5:50 – 6:00 p.m. Break/Transition to Reception/ Museum Lobby 6:00 – 7:00 p.m. Reception/Museum Lobby 7:00 – 9:00 p.m. Dinner/Cyprus Room 8:00 – 8:30 p.m. DINNER SPEAKER*
Antonette Zeiss, Ph.D., Acting Director Chief Patient Care ervices Officer for Mental Health Department of Veterans Affairs 8:30 – 8:45 p.m. Q and A* 9:00 p.m. Adjourn
8:30 a.m. – 4:00 p.m.
8:00 – 8:30 a.m. Continental Breakfast/Ivan Allen III Pavilion 8:30 – 10:00 a.m.
Panel II Reintegration into the Workplace*
Moderator: Ronald Finch, Ed.D., Vice President, National Business Group on Health
Main Presenter: John Howard, M.D., Director
National Institute for Occupational Safety and Health, CDC
Respondents:
William C. Bonk, Director, Health and Wellness, Lockheed Martin
Daniel J. Conti, Ph.D., EAP and WorkLife Director, JP Morgan Chase
Ronald Drach, President, Drach Consulting
10:00 – 10:30 a.m.
Discussion
10:30 – 10:45 a.m.
Break
10:45 a.m. – 12:10 p.m.
Panel III Reintegration into the Community*
Moderator: Brian Flynn, Ed.D., Associate Director
Center for the Study of Traumatic Stress
Uniformed Services University of the Health Sciences
Main Presenter: Barbara Van Dahlen, Ph.D., President & Founder, Give An Hour
Respondents:
Linda Rosenberg, M.S.W., President and CEO, National Council for Community Behavioral Healthcare

Reverend Thomas B. Carter, Partners in Care, Maryland National Guard

Liisa Hyvarinen Temple, M.S., Freelance Journalist/Military Spouse
Adjunct Faculty, University of South Florida
Rosalynn Carter Fellow for Mental Health Journalism 1999-2000
12:10 – 12:40 p.m.
Discussion*
12:40 – 1:10 p.m.
DISMISS TO Concurrent Sessions (pick up lunch at your concurrent sessions)
1:10 – 2:40 p.m.
CONCURRENT SESSIONS
Identify one to three policy barrier and corresponding solution to reintegration into families, the workplace, and communities. Be prepared to make a commitment for yourself and/or your organization to take action on one of the solutions.
Education
Chapel
Moderator: Rebecca G. Palpant, M.S., Assistant Director The Carter Center Mental Health Program
Catherine Morris, M.S., Veteran Counselor/Professor, Sierra College
Jarrett Blake, Associate Director/Veterans Division/VIRTIS
Criminal Justice
Rotunda
Moderator: Bill Emmet, Project Director, Maga Systems, Inc.
Sean Clark, National Coordinator, Veterans Justice Outreach Honorable Robert T. Russell, Jr., J.D., Associate Judge, Buffalo City Court
Rural Issues
Zaban Room
Moderator: Dennis Mohatt, M.A., Vice President for Behavioral Health
Western Interstate Commission on Higher Education
James (Jay) Shore, M.D., Center for American Indian and Alaska Native Health, University of Colorado-Denver
Lieutenant Colonel Anthony Mohatt, Kansas National Guard
Assistant Special Agent-in-Charge
U.S. Department of Agriculture - Office of Inspector General
Research
Cyrpus Room
Moderator: Dori Riessman, M.D., Senior Medical Advisor
National Institute for Occupational Safety and Health, CDC

Michael Schoenbaum, Ph.D., Senior Advisor for Mental Health Services
Epidemiology and Economics, Office of the Director
National Institute of Mental Health

James Kelly, M.D., Director
National Intrepid Center of Excellence, Department of Defense
2:40 – 3:00 p.m.
Break/Transition to Cecil B. Day Chapel
3:00 – 3:50 p.m.
SUMMATION*
Moderators: Thomas Bornemann,Ed.D., Director, Carter Center Mental Health Program
Terri Tanielian, M.A., Co-Director, RAND Center for Military Health Policy Research
3:50 – 4:00 p.m.
CONCLUDING REMARKS*

Rosalynn Carter
Chair, The Carter Center Mental Health Task Force 4:00 p.m. ADJOURN
2010 Symposium Planning Committee
Sonja V. Batten, Ph.D., Assistant Deputy Director
Patient Care Services Officer for Mental Health
Department of Veterans Affairs
Ben G. Druss, M.D., M.P.H.
Rosalynn Carter Endowed Chair in Mental Health
Associate Professor of Health Policy and Management
Rollins School of Public Health, Emory University
Ron Finch Ed.D., Vice President
National Business Group on Health
Brian Flynn, Ed.D. Associate Director
Center for the Study of Traumatic Stress
Uniformed Services University of the Health Sciences
Ellen Gerrity, Ph.D.
Associate Director & Senior Policy Advisor
UCLA National Center for Child Traumatic Stress, Duke University
Kelly Kennedy, M.A., Reporter
Military Times/Gannett
Robert A. Mays, Jr., Ph.D., M.S.W.
Chief, Office of Rural Mental Health Research
National Institute of Mental Health
Dori B. Reissman, M.D., M.P.H., Senior Medical Advisor
Office of the Director, National Institute of Occupational Safety & Health, CDC
Michael Schoenbaum, Ph.D., Senior Advisor for Mental Health Service
Epidemiology & Economics
Office of the Director, National Institute of Mental Health
Terri Tanielian, M.A.
Co-Director, RAND Center for Military Health Policy Research
Eileen Zeller, M.P.H.
Special Advisor – Suicide Prevention
Division of Prevention, Traumatic Stress, & Special Programs
Substance Abuse and Mental Health Services Administration