Oct. 26-27, 2011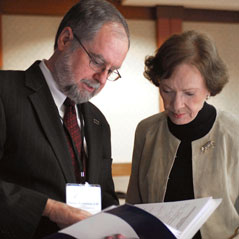 Click here to watch archived video from the 2011 Rosalynn Carter Symposium On Mental Health Policy >
The 27th annual Rosalynn Carter Symposium on Mental Health Policy will cover national public policy solutions to the behavioral health needs of children in vulnerable situations, specifically those exposed to domestic violence, child welfare, and the juvenile justice system.

The two-day event will be webcast live on www.cartercenter.org from 1 to 4:30 and 8 to 9 p.m. (EDT) Oct. 26 and 8:30 a.m. to 4 p.m. Oct. 27.  The webcast will be archived on the Carter Center website for future viewing.

Dr. Thomas Bornemann, Ed.D., director of the Carter Center's Mental Health Program, will give the welcome, followed by opening remarks by former First Lady Rosalynn Carter. The keynote conversation will include John Fairbank, Ph.D., co-director of the National Center for Child Traumatic Stress, Duke University Medical Center, and Ernestine Briggs-King, Ph.D., director of the data and evaluation program of the same institution.

Panels include "Domestic Violence," moderated by Diane Elmore, Ph.D., M.P.H., associate executive director of the American Psychological Association's Public Interest Government Relations Office;  "Child Welfare," moderated by Larke Huang, Ph.D., senior advisor on children in the Office of the Administrator, Substance Abuse and Mental Health Services Administration;  and "Juvenile Justice," moderated by Joseph J. Cocozza, Ph.D., executive director of the National Center for Mental Health and Juvenile Justice.

Since 1985, the annual Rosalynn Carter Symposium on Mental Health Policy has brought together national leaders in mental health to focus and coordinate their efforts on an issue of common concern.  Held each fall, the symposia have examined such issues as mental illness and the elderly, child and adolescent illness, family coping, financing mental health services and research, treating mental illness in the primary care setting, and stigma and mental illness.

The Mental Health Program hosts two meetings each year designed to tackle specific mental health issues of public policy:  The Rosalynn Carter Symposium on Mental Health Policy and the Rosalynn Carter Georgia Mental Health Forum, established in 1995, held each May for state mental health organizations. 
These meetings bring mental health professionals together for open discussions on mental health to affect change. The meetings include representatives from all sectors of the industry — policymakers, health care providers, and consumers.