Note: To download a 300dpi resolution photo of this picture click here, to download a 600dpi resolution photo of this picture click here.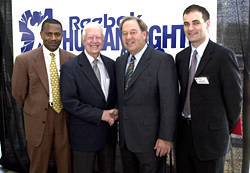 CANTON, MASS... Former U.S. President Jimmy Carter met today with Reebok Chairman Paul Fireman and the Reebok Board of Directors to discuss the company's continuing efforts to promote human rights worldwide. President Carter has served on the Reebok Human Rights Award Board of Advisors since 1989.
"With global trade increasing, all corporations must exercise their influence to support internationally recognized labor standards," said Carter. "Reebok has been in the forefront of this movement. It has implemented a comprehensive human rights program to raise awareness of human rights and takes seriously the challenge of human rights compliance in its business practices."
The annual Reebok Human Rights Awards support the vital work of human rights activists worldwide. Reebok also has an ongoing commitment to improving workplace conditions in factories that produce the company's products.
"Standing up for human rights is a Reebok hallmark and is as much a part of our corporate identity as our products. President Carter's longstanding dedication to resolving conflict, promoting human rights, improving global health, and building democracy around the world make him a valuable asset to the Reebok Human Rights Board of Advisors," stated Paul Fireman, chairman and CEO of Reebok.
In 1988, Reebok created the Reebok Human Rights department and established the annual Human Rights Awards program to recognize young people on the forefront of human rights activism around the world. More information on the Reebok Human Rights program can be found at the reebok.com website.
In 1982, President Carter and his wife, Rosalynn, founded The Carter Center, an Atlanta-based nonprofit, nongovernmental organization that advances, peace, health, and human rights worldwide.
#####