Sept. 24, 2003
FOR IMMEDIATE RELEASE
CONTACT: Emily Howard
(404) 420-5126

Atlanta. . . A collaborative action plan for making Guinea worm disease (dracunculiasis) the next disease to be eradicated from the earth was issued today at The Carter Center.
With 96 percent of the world's remaining Guinea worm cases occurring in only three countries, former U.S. President Jimmy Carter, former Nigeria Head of State General Yakubu Gowon, and World Health Organization Director-General Jong-wook Lee led a special session focusing on the Guinea worm eradication campaign in the most endemic countries - Sudan, Ghana, and Nigeria.
"Guinea worm eradication is on the horizon, and it is achievable," said President Carter. "With an even stronger public health focus on Guinea worm disease in West Africa and Sudan-which have made much progress against the disease-together we can end this needless suffering for the people of Africa."
The recommendations resulted from a meeting Sept. 22-25 at the Center, with more than 70 international dignitaries, experts, donors, and professionals from Africa and the world. The group reviewed the status of the national programs in each of the three targeted countries. Among the strategies they agreed upon to accelerate the rate of eradication were (abbreviated):
Ghana:
Ghanaian authorities should make clear to all concerned that eradicating Guinea worm disease from Ghana is a top national priority for which they will all be held responsible.
The Ghana Guinea Worm Eradication Program should provide a detailed plan of action with specific objectives and measurable goals for 2004 with emphasis on safe water supply; applying ABATE® Larvicide application to stagnant water sources; social mobilization and health education; surveillance; making nylon drinking water filters available to target populations; and case containment.
Nigeria:
Acknowledging the unique and effective role of former Nigeria head of state General (Dr.) Yakubu Gowon and other partners for the accelerated progress toward eradication of Guinea worm disease in Nigeria, the Nigeria Guinea Worm Eradication Program should provide support to ensure continued advocacy and community mobilization.
The Nigeria Guinea Worm Eradication Program should continue to monitor cases monthly, make safe drinking water a priority, and fix broken drinking water sources to the most endemic villages, using appropriate low-cost technologies.
The federal government of Nigeria is urged to ensure the prompt clearance of materials for the Guinea Worm Eradication Program from national ports of entry.
Sudan:
Participants in this Guinea worm review meeting appeal for a successful conclusion in 2003 to the current negotiations to settle the conflict in Sudan. Sudan reported 76 percent of all Guinea worm cases in the world and exported cases to at least three neighboring countries in 2002. Ending the 20-year-old war would remove the single greatest barrier to completing the global campaign to eradicate Guinea worm disease.
Participants commend Sudanese health workers, political authorities, and their partners on both sides of the civil war for the significant reductions in Guinea worm cases in many areas that are currently accessible to the program. This effective cooperation should continue into the post-war period.
Only 55,000 reported cases of Guinea worm disease remained worldwide in 2002, a more than 98 percent reduction from the 3.5 million cases existing when the disease was first targeted for eradication in 1986. Of the original 20 endemic countries in 1986, the disease has already been eradicated from seven-Cameroon (1997), Chad (1998), India (1996), Kenya (1994), Pakistan (1993), Senegal (1997), and Yemen (1997). Last year, four others reported 100 or fewer cases-Central African Republic, Ethiopia, Mauritania, and Uganda.
Read the Sept. 18, 2003, issue of the Centers for Disease Control and Prevention's Morbidity and Mortality Weekly Report which highlights Guinea worm statistics from January-June 2003. (PDF)
Guinea worm disease is poised to be the next disease eradicated. Leading the international Guinea worm eradication coalition, The Carter Center, in collaboration with national Guinea worm eradication programs, the Centers for Disease Control and Prevention, UNICEF, and the World Health Organization, has been actively fighting Guinea worm disease since 1986. When the disease is eradicated, it will be the first parasitic disease and the first disease without a vaccine or medication to be eradicated.
Read the news release and listen to the public service announcements:
Nobel Laureates Lead Call to Eradicate Guinea Worm Disease
The Carter Center, as the lead organization, reinforces national Guinea worm eradication programs by providing advocacy, technical and financial assistance, and commodities, such as donated nylon filters to strain the disease from the drinking water, larvicide to kill the microscopic water fleas that host the parasite, and medical kits.
Our supporters are valuable partners in the fight to eradicate Guinea worm disease, including the governments of Canada, Denmark, Japan, Luxembourg, The Netherlands, Nigeria, Republic of Finland, United Kingdom, United Arab Emirates, and the United States. Japan, for example, assists The Carter Center in providing funds for vehicles, cloth filters, and wells for clean water. The Bill and Melinda Gates Foundation, the Conrad N. Hilton Foundation, the Saudi Fund for Development, the United Nations Foundation, and UNICEF provide generous support as well. The E.I. du Pont de Nemours & Company and Precision Fabrics Group have donated nylon filter cloth. American Cyanamid, American Home Products, and BASF have provided the larvicide ABATE®, and Johnson & Johnson has donated enough medical supplies, such as Tylenol®, forceps, and gauze, to treat more than 3,000 villages. Hydro Polymers of Norsk Hydro provided more than 9 million pipe filters to Sudan.
Learn more about the Carter Center's Guinea Worm Eradication Program
Background on Guinea worm disease:
Guinea worm impoverishes a community by crippling agricultural production and reducing school attendance. Guinea worm is a parasitic, water-borne disease that is contracted when people consume stagnant water, contaminated with microscopic fleas carrying infective larvae. Inside a human's abdomen, the larvae mature and grow, some as long as three feet. After a year, the worm slowly emerges through a painful blister in the skin. Some worms can take up to two months to be completely expunged. The infected person wraps the Guinea worm around a small stick as it emerges, a slow and painful process that can take several weeks. There is no vaccine for Guinea worm disease. The emerging worm often causes fever, nausea, secondary infection, and burning pain, earning the parasite one of its nicknames, "the fiery serpent." The burning sensation caused by the emerging worm leads many victims to immerse their limbs in water, seeking relief, but the cycle of infection only begins again as the worm releases more larvae into the water.
Related Articles:
Carter Center, Health Officials Work to Eliminate Guinea Worm Disease
(AP, Sept. 24, 2003)
"Progress Toward Global Eradication of Dracunculiasis, January-June 2003"
(Morbidity and Mortality Weekly Report, Sept. 19, 2003)
Reported by: The Carter Center, Atlanta, Georgia. World Health Organization Collaborating Center for Research, Training, and Eradication of Dracunculiasis, Div of Parasitic Diseases, National Center for Infectious Diseases, CDC.
###
The Carter Center was founded in 1982 by former U.S. President Jimmy Carter and his wife, Rosalynn, in partnership with Emory University, to advance peace and health worldwide. A not-for-profit, nongovernmental organization, the Center has helped to improve life for people in more than 65 countries by resolving conflicts; advancing democracy, human rights, and economic opportunity; preventing diseases; improving mental health care; and teaching farmers to increase crop production.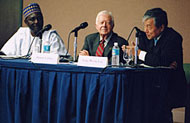 Carter Center Photos: S. Randall
World Health Organization Director-General Jong-wook Lee (r.), with former U.S. President Jimmy Carter (c.), and former Nigeria Head of State General Yakubu Gowon (l.), lead one of the event's sessions.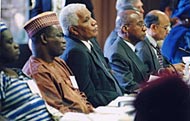 These participants were among the more than 70 international dignitaries, experts, donors, and professionals present.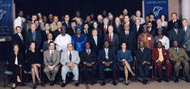 Participants in the 2003 Program Review Meeting of the National Guinea Worm Disease Eradication Programs in Sudan, Ghana and Nigeria.