Nov. 11, 2003
FOR IMMEDIATE RELEASE
CONTACT: Kay Torrance
404-420-5129
ATLANTA….Governments must repeal urgently all counterterrorism and emergency legislation that infringes upon the work of human rights defenders, concluded prominent human rights defenders gathered at The Carter Center today to address the troubling backsliding on human rights since the beginning of the war on terrorism.

Human rights activists from 41 countries joined former U.S. President Jimmy Carter, U.N. Acting High Commissioner for Human Rights Bertrand Ramcharan, and U.N. Special Representative to the Secretary-General on Human Rights Defenders at the Nov. 11-12 conference. The defenders wrote the "Atlanta Declaration" with concrete proposals that will be presented to U.S. and other policy-makers.
"The dangers for human rights defenders are growing," said Ashley Barr, the Carter Center's senior program associate for human rights. "Governments in all regions of the world are increasingly taking measures designed to criminalize those who challenge repressive policies."

"Some governments accuse human rights defenders of being terrorists themselves as a result of their work to expose human rights violations," said Karin Ryan, human rights advisor to the Center.
The activists called for the human rights programs of the United Nations and other international bodies to be strengthened to ensure the autonomy and impartiality needed to monitor and report on violations without undue political influence.
"There was a general consensus that the unconscionable terrorist attacks of September 2001 have precipitated policy changes in the United States and other nations because of pre-occupation with the use of force as the sole means to combat terrorism," President Carter said. "This is leading to an alarming erosion of the rule of law in established and emerging democracies and giving comfort to undemocratic governments that previously were the subject of intense pressure on their human rights policies."
The Carter Center was founded in 1982 by former U.S. President Jimmy Carter and his wife, Rosalynn, in partnership with Emory University, to advance peace and health worldwide. A not-for-profit, nongovernmental organization, the Center has helped to improve life for people in more than 65 countries by resolving conflicts; advancing democracy, human rights, and economic opportunity; preventing diseases; improving mental health care; and teaching farmers to increase crop production.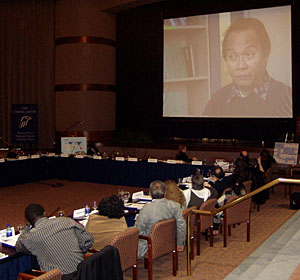 CARTER CENTER PHOTO: KAY TORRANCE
Participants view a video testimonial from the human rights organization, 'Witness,' during the two-day event.