Nov. 11, 2003
FOR IMMEDIATE RELEASE
CONTACT: Kay Torrance
404-420-5129
ATLANTA...At a conference co-sponsored by The Carter Center and the U.N. High Commissioner for Human Rights, representatives from 43 nations assembled to discuss key challenges that adversely affect their work as human rights activists. This was an assembly of human rights defenders, many of whom have been tortured, imprisoned, and otherwise abused by their own governments because they have attempted to defend freedom and justice.
There was a general consensus that the unconscionable terrorist attacks on the World Trade Center in September 2001 have precipitated policy changes in the United States and other nations that seriously threaten the defenders of human rights and the causes for which they continue to risk their lives and safety.
The imprisonment of more than 1000 foreign nationals and American citizens who seemed to be Muslims or Arabs and the holding in Guantanamo of 600 prisoners captured in Afghanistan, all without knowledge of the allegations against them, the right to legal counsel, or the ability to communicate with their families was severely condemned as an unprecedented encroachment on civil liberties. Of even greater concern was the impact of these U.S. policies and some elements of the Patriot Act on the policies of many other government leaders who now assume that, with relative impunity, they can brand their critics as terrorists and punish or intimidate them accordingly.
It was also felt that the U.N. high commissioner for human rights lacks adequate autonomy and assured funding and has become excessively constrained in his defender's role by the influence of nations that are often human rights oppressors. The U.N. special representative to the secretary-general on human rights defenders has inadequate staff and lacks assured operating expenses adequate to perform her duties. Other regional human rights bodies also lack independence and/or appropriate funding to fulfill their mandates.
These are some typical comments about specific countries or the pattern of crisis that has worsened as a result of the war on terror:
"Since 9/11 my own government has cracked down. 1500 detainees are being held without legal counsel, and many have been tortured. Others have simply disappeared. Legal courts now have minimal authority."
"The new security policy has meant a tendency toward the legalization of paramilitary groups. The government is proposing to grant impunity to these groups for the war crimes and crimes against humanity they have committed. In punishing any dissidents who condemn government policies, paramilitary groups are now legalized, and the military is given impunity for war crimes and genocide."
"Many civil conflicts have been engendered during the past two years, between potentially oppressive governments and any of their citizens who dare to be critical. In some cases, this has just been a more overt exposure of existing differences that already existed."
"We must remember that security and the rule of law are not incompatible, but judiciaries are being weakened and precedence is being given to resolving problems by military means, abandoning commitments to peace and democracy. Since the terrorist attacks in the United States, there has been a derogation of due process and civil justice, with arbitrary detentions, the absence of fair trials, and the exclusion of legal counsel. Despite this, we realize that human rights defenders must remain non-violent."
"Will human rights organizations be the next victims of the war on terrorism? There is a new security bill before our parliament, based on the U.S. Patriot Act, which contains unconstitutional provisions and gives the state draconian powers. It could be the death of our human rights effort."
"You cannot control terrorism by constraining human rights. In responding to terrorism by oppression of human liberties, governments incite greatly escalated terrorism."
"Many oppressive governments never want the "war on terrorism" to end. One leader asked in an international forum, 'Why emphasize human rights anymore? We're in a global war against terrorism.'"
"The value of previously ratified human rights treaties is rapidly dissipating."
"In my country, "terrorist" has replaced "communist" as the epithet used by military oppressors to justify their attacks on us."
"Recently there have been four intercessions or rulings by the Inter-American Court of Human Rights. They have all been ignored."
"The protection role of United Nations human rights agencies is on the wane."
These fervent concerns have precipitated the following "Declaration of Atlanta," which is designed to reemphasize the importance of human rights as a global commitment.
Read the "Declaration of Atlanta" (PDF)
####

The Carter Center was founded in 1982 by former U.S. President Jimmy Carter and his wife, Rosalynn, in partnership with Emory University, to advance peace and health worldwide. A not-for-profit, nongovernmental organization, the Center has helped to improve life for people in more than 65 countries by resolving conflicts; advancing democracy, human rights, and economic opportunity; preventing diseases; improving mental health care; and teaching farmers to increase crop production.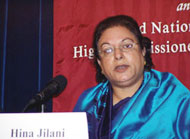 Carter Center Photo: Connie Nelson

Hina Jilani, U.N. Special Representative to the Secretary-General on Human Rights Defenders, addresses the media following the conference.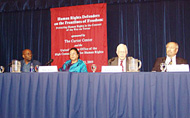 Carter Center Photo: Connie Nelson

Joining former U.S. President Jimmy Carter at the press conference were (from left to right): Dr. Willy Mutunga, executive director of Kenya Human Rights Commission; Ms. Jilani; and Dr. Saad Eddin Ibrahim of Egypt, an activist and professor at the American University in Cairo.