Oct. 26, 2005
The son of an area chief in the former Ankole Kingdom, Moses Katabarwa learned early the importance of family, community, and grassroots action, dedicating his life to improving the well-being of his fellow Ugandans.
Country representative for The Carter Center's Ugandan River Blindness Control Program from 1996-2003, Dr. Katabarwa is making a significant impact at home and abroad through his use of kinship structures to improve river blindness prevention efforts. Today, as a staff epidemiologist based in the Center's headquarters in Atlanta, Dr. Katabarwa's unique approach is being applied to other health interventions such as the river blindness eradication program in the Americas and Guinea worm eradication.
Spread by the bite of black flies breeding near swiftly flowing rivers, onchocerciasis bears the most devastating effect in isolated, rural areas where access to even basic medical care is extremely difficult. Yet, in Africa, river blindness is easily preventable through a single yearly dose of Mectizan®, an antibiotic donated by Merck & Co.
Dr. Katabarwa, whose background is in anthropology and public health, understood Ugandan kinship groups include both immediate and extended relatives in a concentrated geographic area. As traditional/grassroots structures, kinships can be utilized in public health initiatives to ensure trust, equity and quality of health care services in mainly disadvantaged communities.
"Incorporating kinship groups in treatment efforts for onchocerciasis is also the cheapest and most convenient way to serve vulnerable groups such as the elderly and children, because members of kinships do not require monetary incentives as a condition for providing services to their kinsmen," he said.
Prevention and treatment efforts in remote endemic areas are more efficient and complete, especially when health workers are unable to frequently visit.
"If you give people the tools to treat their kin, they will make sure that a cousin who is absent when the health workers visit will get medicine," he said.
According to Dr. Katabarwa, the river blindness program has brought about a revolution in perceptions of health care delivery in Africa.
"People had been told medicine should only be handled by trained doctors, but communities demonstrated they could deliver items such as medicine without wasting it and would treat everyone who needed to be treated."
This seemingly basic approach has been tremendously successful. Approximately 90 percent of people in endemic areas in Uganda have received Mectizan treatments annually for the past six years - well above the target goal - and the kinship method was included Uganda's national health policy.
The incorporation of kinship structures into Mectizan distribution strategies has allowed more women, as customary caregivers, to become empowered through their community leadership in the program. And because many more people are trained to dispense Mectizan to their families, the program can sustain itself indefinitely at that level - building a foundation for other health interventions at the local level.
Most importantly, Katabarwa says these communities are inspired. "Before, people waited for the government. Now they believe they can do it themselves."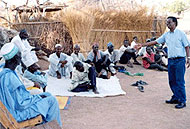 Photo Credit: Carter Center
Dr. Katabarwa (right) talks to a Cameroonian village about river blindness prevention and control.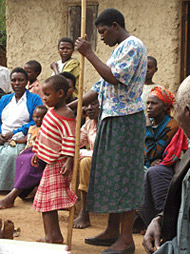 Photo Credit: Carter Center
A Ugandan child is measured to determine the appropriate dose of Mectizan she should receive to prevent river blindness.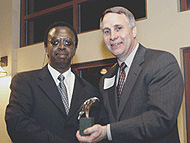 Photo credit: Carter Center/W. Harewood
Dr. Katabarwa (left) receives the Sheth Distinguished International Alumni Award in March, 2005, from Emory University President James Wagner for his outstanding contribution to human welfare.