Nov. 2, 2005
ATLANTA--Former First Lady Rosalynn Carter, a tireless advocate for improved access to mental health services, is the recipient of the 2005 Aetna Voice of Conscience Award, honoring her commitment to improving the lives of people around the world.
Aetna Chairman and CEO John W. Rowe, M.D., presented the award - which includes a $50,000 donation to a charity of Mrs. Carter's choice - in a ceremony at The Carter Center. Mrs. Carter will donate the $50,000 grant to the Carter Center's Mental Health Program.

Read the full transcript of Dr. Rowe's dinner speech, award presentation, and Mrs. Carter's acceptance remarks.
"Rosalynn Carter has served as a catalyst for positive change to improve the lives of millions of people," said Dr. Rowe. "Through her efforts over more than three decades, Mrs. Carter has focused much-needed national attention on the plight of people suffering from mental illnesses. As a champion for this cause, she has helped reduce the stigma that prevents many people from receiving proper care."
As first lady, Mrs. Carter served as honorary chair of the President's Commission on Mental Health during the Carter administration, which resulted in the passage of the Mental Health Systems Act of 1980. She created and serves as chair of the Carter Center's Mental Health Task Force, which aims to promote positive changes in the mental health field.
The Carter Center is a private, not-for-profit institution founded in 1982, by Mrs. Carter and her husband, former U.S. President Jimmy Carter. Each year, The Carter Center hosts the Rosalynn Carter Symposium on Mental Health Policy, which brings together public and private sector leaders from medicine, business, and academia to address critical issues in mental health. The award presentation was held in conjunction with this year's symposium.
Mrs. Carter has maintained a lifelong dedication to issues affecting women and children. In 1991, she launched with Mrs. Betty Bumpers, wife of former U.S. Sen. Dale Bumpers of Arkansas, "Every Child by Two," a nationwide campaign to publicize the need for early childhood immunizations.
She served on the policy advisory board of The Atlanta Project, a program addressing the social ills associated with poverty and quality of life citywide, launched in 1991, by The Carter Center and transferred to Georgia State University in 1999. In 1988, she convened, with three other former first ladies, the "Women and the Constitution" conference to assess that document's impact on women.
Outside the Center, Mrs. Carter is president of the board of directors for the Rosalynn Carter Institute for Caregivers (RCI) at Georgia Southwestern State University, which was established in her honor on the campus of her alma mater in Americus, Ga. Through research, education, and training, the RCI promotes the mental health and well-being of individuals, families, and professional caregivers; delineates effective caregiving practices; builds public awareness of caregiving needs; and advances public and social policies that enhance caring communities.
She also works with Habitat for Humanity, a network of volunteers who build homes for the needy, and Project Interconnections, a public/private non-profit partnership to provide housing for homeless people who have mental illnesses.
The Voice of Conscience Award was established in 1993, after the death of tennis great and humanitarian Arthur R. Ashe, Jr., who served for more than a decade on the board of directors of Aetna and the Aetna Foundation. The annual award honors an individual citizen/leader who emulates the selfless commitment to education, civil rights, health, and human services that Ashe demonstrated.
Past recipients of Aetna's Voice of Conscience Award include The Honorable Alan C. Page (1994), Eunice Kennedy Shriver (1998), Ambassador Andrew Young (2002) and Dr. David Satcher (2004).
Learn more: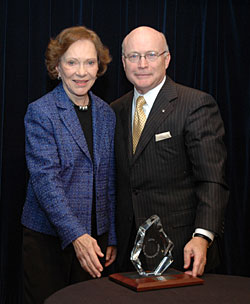 Rosalynn Carter with Aetna Chairman and CEO John W. Rowe, M.D., who presented the Voice of Conscience Award.