Former First Lady of the United States and Founder of The Carter Center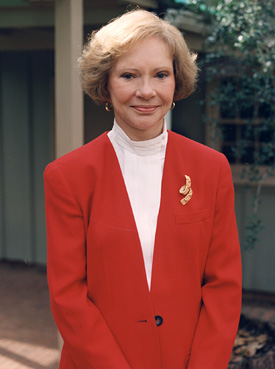 Former First Lady Rosalynn Carter worked for more than five decades to improve the quality of life for people around the world. She was a leading advocate for mental health, caregiving, early childhood immunization, human rights, and conflict resolution through her work at The Carter Center in Atlanta. The Center is a private, nonprofit institution founded by former President Jimmy Carter and Mrs. Carter in 1982. A full partner with President Carter in all the Center's activities, the former first lady was a founding member of the Carter Center Board of Trustees.
As first lady of Georgia and the United States, Mrs. Carter worked tirelessly to create what she called "a more caring society." In the White House, serving as a surrogate for her husband, she made a landmark trip to foster U.S. partnership with Latin America. An activist first lady with her own bold agenda, she created a distinct East Wing office from which she set about helping disadvantaged people. Her efforts challenged age discrimination for older adults, encouraged opportunities for people with developmental disabilities, and advanced women's equality. She drew world attention to and organized relief for refugees escaping genocide in Cambodia. To protect children from unnecessary illness or possible death, she campaigned vigorously to require vaccinations before registering for school. Above all, she devoted herself to improving treatment and services for those coping with mental health conditions, a cause she adopted when her husband was governor and that remained her priority for the rest of her life.
Mrs. Carter emerged as a driving force for mental health when, during the Carter administration, she became active honorary chair of the President's Commission on Mental Health, which resulted in passage of the Mental Health Systems Act of 1980. She created and chaired the Carter Center's Mental Health Task Force, an advisory body of experts, consumers, and advocates promoting positive change in the mental health field. Using her influence as a convener, for 32 years through annual symposia she brought together leaders of the nation's mental health organizations to address critical issues and pursue policy changes to improve treatment and services.
A staunch advocate for women's rights and ratification of the Equal Rights Amendment (ERA), to celebrate the bicentennial of the United States Constitution she convened with three other former first ladies the 1988 "Women and the Constitution" conference at The Carter Center to assess that document's impact on women. She served on the Policy Advisory Board of The Atlanta Project (TAP), a Carter Center program addressing the social ills associated with poverty and quality of life citywide, from the program's inception in 1991 until its transfer to Georgia State University in 1999.
Outside the Center, until her retirement Mrs. Carter was president of the board of directors for the Rosalynn Carter Institute for Caregivers (RCI), which was established in 1987 in her honor on the campus of her alma mater, Georgia Southwestern State University in Americus, Georgia. Through research, education, and training, the RCI promotes the mental health and well-being of family caregivers by building cross-sector partnerships, leading research projects and strategic initiatives, developing and implementing evidence-based programs, and advocating for public policy.
A mother of four, with 12 grandchildren (one deceased) and 14 great-grandchildren, Mrs. Carter maintained a lifelong dedication to issues affecting children and families. In 1991, in response to a measles epidemic in America, she launched with Mrs. Betty Bumpers, wife of former U.S. Senator Dale Bumpers of Arkansas, Every Child By Two (now Vaccinate Your Family), which started as a nationwide campaign to protect children from vaccine-preventable diseases by raising awareness of the critical need for timely infant immunizations. In 2018 the program expanded to promote vaccines across the lifespan and is now one of the nation's most respected advocacy organizations. She also worked with Habitat for Humanity, participating in the annual weeklong Jimmy and Rosalynn Carter Work Project, which in 1984 began building homes for people in need, and with 3Keys, a public-private nonprofit partnership to provide housing for homeless people living with mental health conditions. She served as distinguished centennial lecturer at Agnes Scott College in Decatur, Georgia, from 1988 to 1992 and as distinguished fellow at the Emory University Department of Women's Studies (now Women's, Gender, and Sexuality Studies) in Atlanta from 1990 to 2018.
Since graduating from Georgia Southwestern College in 1946, Mrs. Carter received many honors, among them the Volunteer of the Decade Award from the National Mental Health Association; the Award of Merit for Support of the Equal Rights Amendment from the National Organization for Women; the Notre Dame Award for International Service; the Eleanor Roosevelt Living World Award from Peace Links; the Kiwanis World Service Medal from Kiwanis International Foundation; the Jefferson Award from the American Institute for Public Service; the Georgia Woman of the Year Award from the Georgia Commission on Women; the Rhoda and Bernard Sarnat International Prize in Mental Health from the National Academy of Medicine; the United States Surgeon General's Medallion; and the Presidential Medal of Freedom, America's highest civilian honor. In 2001, she was inducted into the National Women's Hall of Fame.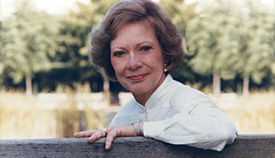 Mrs. Carter wrote five books: her autobiography, First Lady from Plains; Everything To Gain: Making the Most of the Rest of Your Life, a book co-authored with President Carter and inspired by their life after the White House; Helping Yourself Help Others: A Book For Caregivers (with Susan K. Golant); Helping Someone with Mental Illness: A Compassionate Guide for Family, Friends, and Caregivers (with Susan K. Golant), which was selected as the winner of the 1999 American Society of Journalists and Authors Outstanding Book Award in the service category; and Within Our Reach: Ending the Mental Health Crisis (with Susan K. Golant and Kathryn E. Cade). She was an active member and deacon at Maranatha Baptist Church in Plains, Georgia.
As an outdoorswoman and environmentalist, Mrs. Carter enjoyed fly-fishing, birdwatching, and gardening. She advocated for the protection of monarch butterflies and other pollinators and promoted expansion of pollinator habitats in the U.S. and abroad through the Rosalynn Carter Butterfly Trail.
On May 30, 2023, her family shared that Mrs. Carter had dementia. She continued to live at home with her husband in Plains, enjoying visits with loved ones, until her death on Nov. 19, 2023.
Revised Nov. 24, 2023.