FOR IMMEDIATE RELEASE
CONTACT for Interviews Only
Jon Moor, 404-420-5107
ATLANTA....Select former government officials with expert perspectives on democracy and stability in the Western Hemisphere gathered at The Carter Center April 25-26 to bolster their mandate as Friends of the Inter-American Democratic Charter. The group was formed by the Center to strengthen the ability of countries to prevent crisis in the hemisphere, where fifteen presidencies have been interrupted with impeachment, coups, or forced resignations from mass protests since 1990, democracies remain weak, and civil unrest is growing. View list of participants (PDF).
The Democratic Charter's mandate, approved by the 34 active member states of the Organization of American States on Sept. 11, 2001, is to make explicit the regional commitment to democracy, and to intervene early and diplomatically when destabilizing elements threaten democracy. Its weakness, however, is that it does not specify what intervening actions can be taken and when. So, although the Charter stands as the most significant commitment to the collective defense of democracy made in the Western Hemisphere, it has rarely been invoked.
The Friends of the Democratic Charter alliance is more vital than ever this year. Twelve elections are scheduled in the hemisphere, with some expected to be extremely close and reflecting divided societies. The Friends will continue to highlight the accomplishments of the Charter and encourage its early use to prevent more crises.
For example, in December 2004, Ecuador's President Gutiérrez had Congress dismiss the Supreme Court. Massive protests followed, and eventually Gutiérrez was forced out of office. The international community was slow to respond to the crisis. A year after the initial dismissal, a new court was put in place with the help of the United Nations and OAS. Many Ecuadorians were left wondering why it had taken so long.
Learn more about the Carter Center's Americas Program, which strives to encourage government accountability, helps citizens and governments create systems permitting public access to government documents, develops methods to make political finance more transparent, and involves civic groups in public dialogue with governments on crucial national issues and laws.


Read more:
Miami Herald Op-Ed: Friends of Democratic Charter Urge Early Intervention, Disclosure of Violations, signed by former U.S. President Jimmy Carter and 11 others, published in the May 2, 2005, edition of The Miami Herald.
The Vulnerabilities of Democracy: a speech by Jennifer McCoy to the Democracy and Summits of the Americas Panel on the Inter-American Democratic Charter, Palacio San Martín, Buenos Aires, Argentina, 11 Mar 2005.
Jimmy Carter Calls on Western Hemisphere to Strengthen OAS Democratic Charter, 25 Jan 2005.

####
The Carter Center was founded in 1982 by former U.S. President Jimmy Carter and his wife, Rosalynn, in partnership with Emory University, to advance peace and health worldwide. A not-for-profit, nongovernmental organization, the Center has helped to improve life for people in more than 65 countries by resolving conflicts; advancing democracy, human rights, and economic opportunity; preventing diseases; improving mental health care; and teaching farmers to increase crop production. To learn more about The Carter Center, please visit: www.cartercenter.org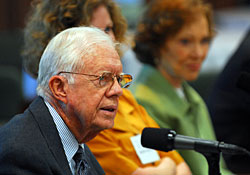 Former U.S. President Jimmy Carter addresses the gathering of former government officials from the Western Hemisphere.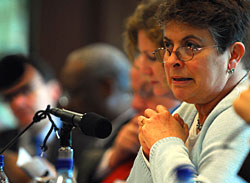 CARTER CENTER PHOTOS/D. Hakes
Mariclaire Acosta, former undersecretary of human rights in Mexico, speaks at the Friends of the Democratic Charter meeting April 25, 2006.