Managua, Nicaragua....Former U.S. President Jimmy Carter, with experts from The Carter Center, held a press conference here July 6 at 10 a.m. in the InterContinental Metrocentro Hotel. The event concluded several days of meetings with Nicaragua's presidential and vice presidential candidates, election officials, and civil society groups by President Carter, former First Lady Rosalynn Carter, and top Carter Center staff.
Other participants in the press conference included the Center's Americas Program Director Jennifer McCoy, Americas Program Senior Associate Director Shelley McConnell, Carter Center consultant David R. Dye, and Chief of Mission Jaime Aparicio.
2006 Nicaragua Elections:
An Overview
General elections:
November 5, 2006

Voter verification process:
Nicaraguans must confirm their presence on the voting lists in the offices of their Municipal Electoral Councils before Aug. 6, 2006.
Electoral rules:
A candidate needs 35 percent of the vote, or 30 percent and a five-point lead over the number two contender, to win the presidency outright and avoid a second round of elections. There are three presidential candidates; a fourth candidate died suddenly July 2 and has not yet been replaced.
Political parties:
Frente Sandinista de Liberación Nacional (FSLN)
Partido Liberal Constitucional (PLC)
Alianza Liberal Nicaraguense's (ALN-PC)
Movimiento de Renovación Sandinista (MRS)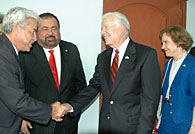 Carter Center Photos: 
Margarita Montealegre

Former U.S. President Jimmy Carter (center) and former U.S. First Lady Rosalynn Carter (right) greet Magistrate Emmett Lang Salmerón (far left) and Chief Magistrate of the Supreme Electoral Counsel Roberto Rivas Reyes (left),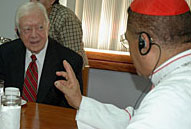 President Carter meets with Cardenal Miguel Obando y Bravo during one of a series of gatherings held in Managua.
The Carter Center and Nicaragua
Carter Center work in Nicaragua

July 3, 2006 - Media Advisory: Former U.S. President Jimmy Carter Leads Pre-Election Assessment Trip to Nicaragua (English and Spanish)
June 21, 2006 - The Carter Center Observes Nicaragua's Voter Registration Verification Process (English and Spanish)
June 15, 2006 - Message to the Nicaraguan Electorate Encouraging Participation in the Verification Process (Spanish and English)